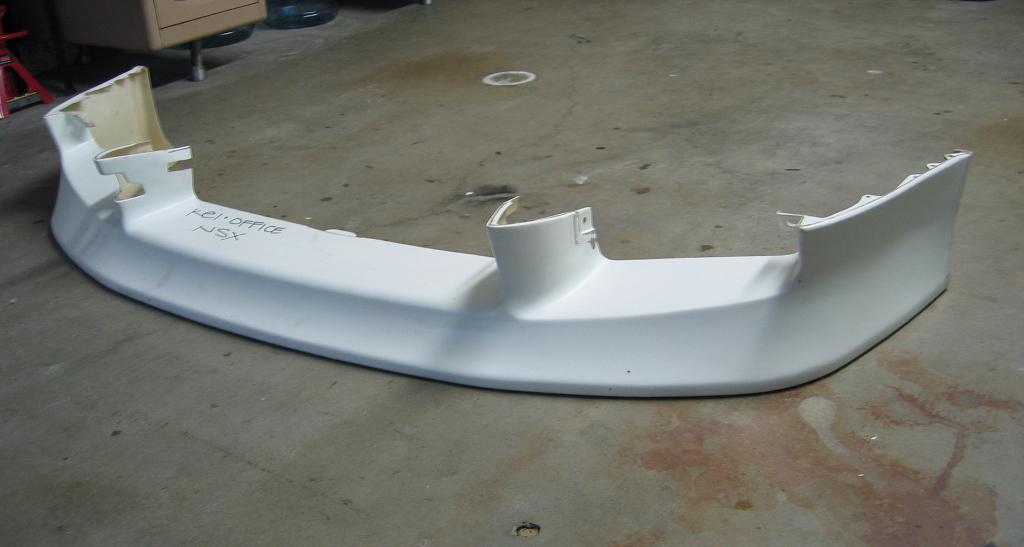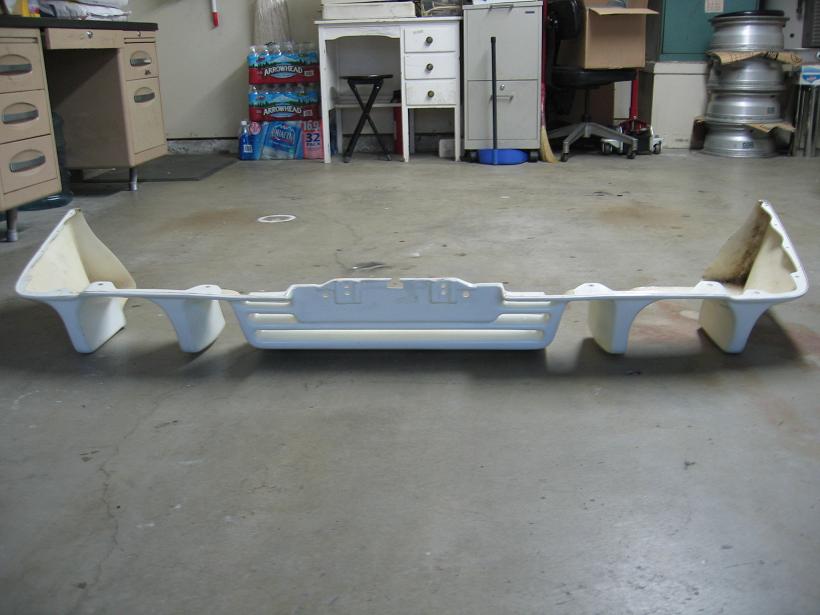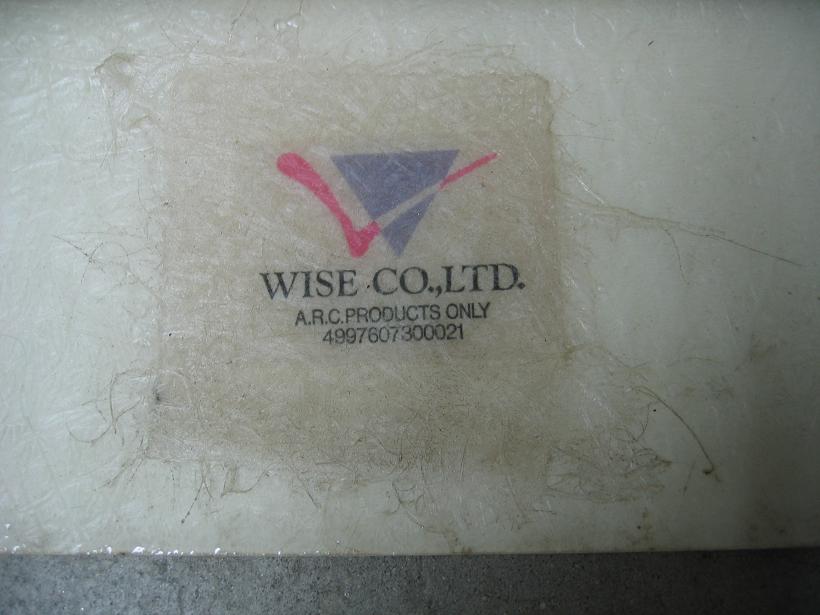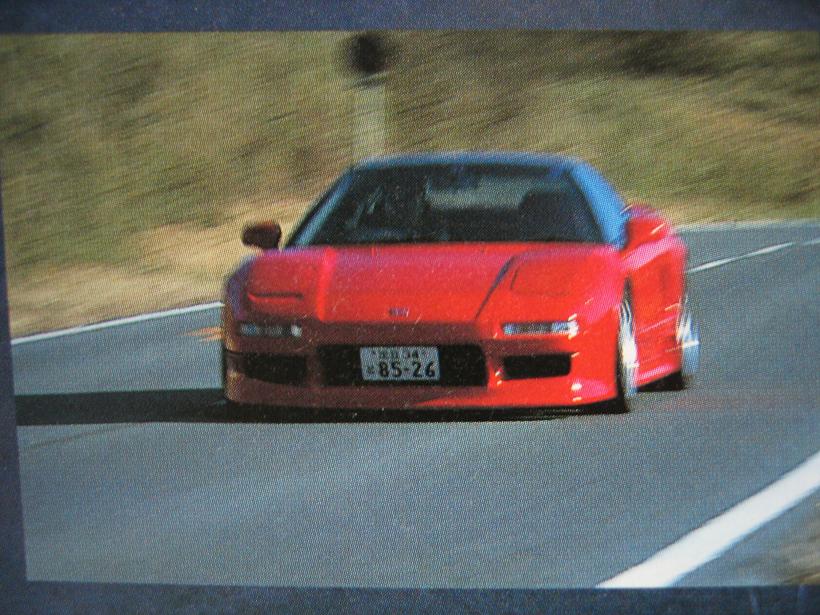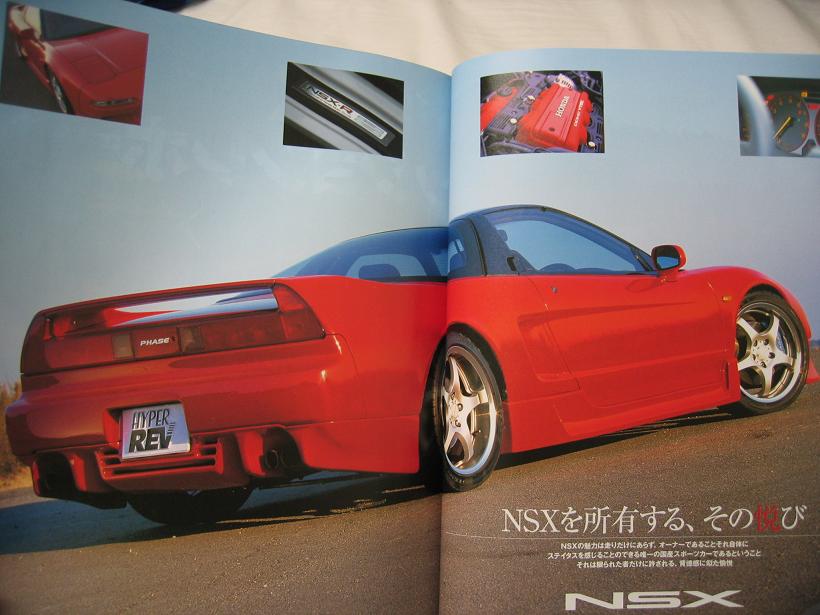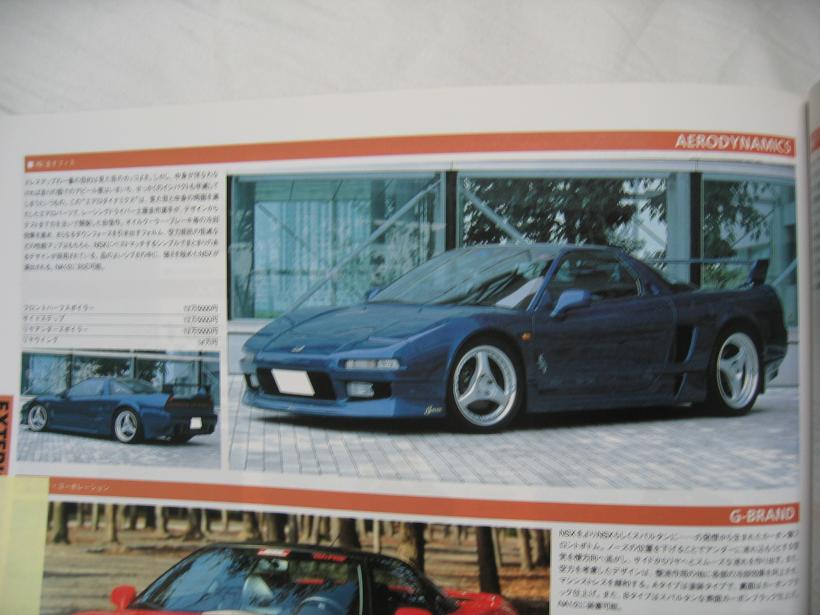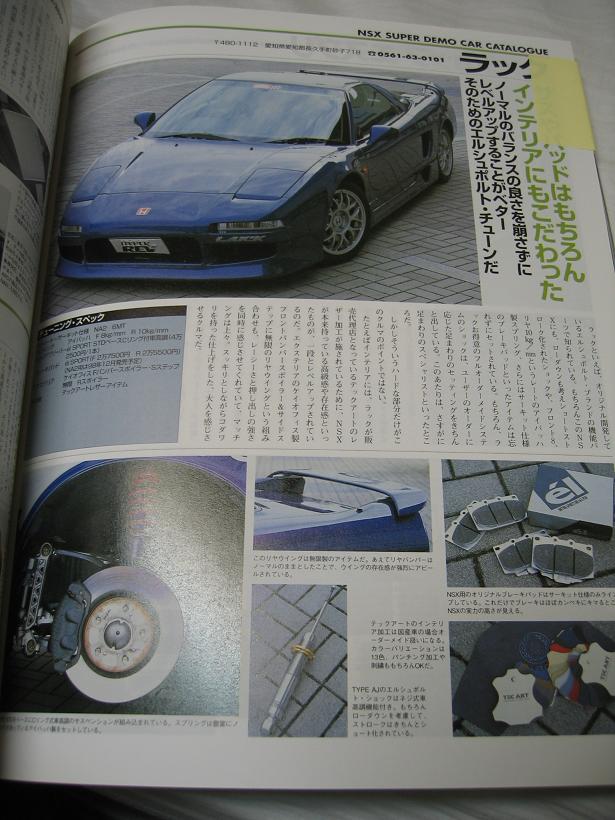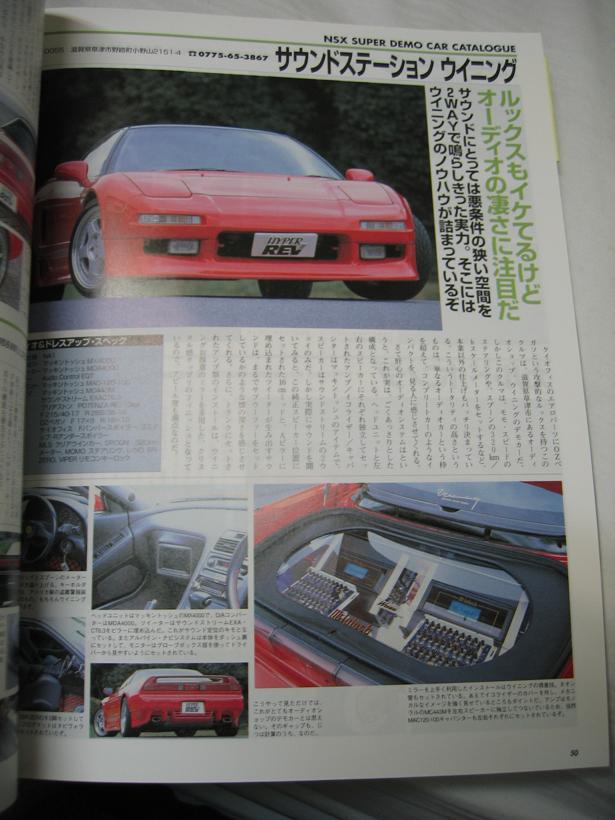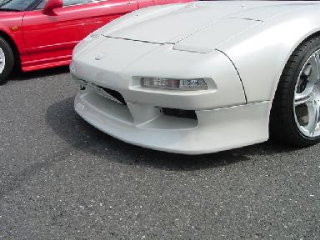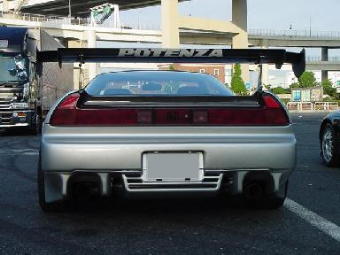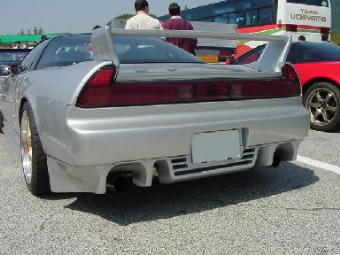 Kei Office (Wise Sports) NSX Body Kit
- Fits 91-01 Acura NSX.
- Front lip, side skirts, and rear diffuser all brand new never used.
- Authentic and made in Japan.
- Rare and discontinued kit. Kei Office is no longer in business and Wise Sports never sold it as their own.
- If you have the Hyper Rev books, check out the pics.
Hyper Rev Vol.93 NSX #1 (p.48 Luck NSX, p.50 Winning NSX, p.113 Kei Office NSX)
Hyper Rev Vol. 93 NSX #2 (p.110-113 Phase Racing NSX)
- $1800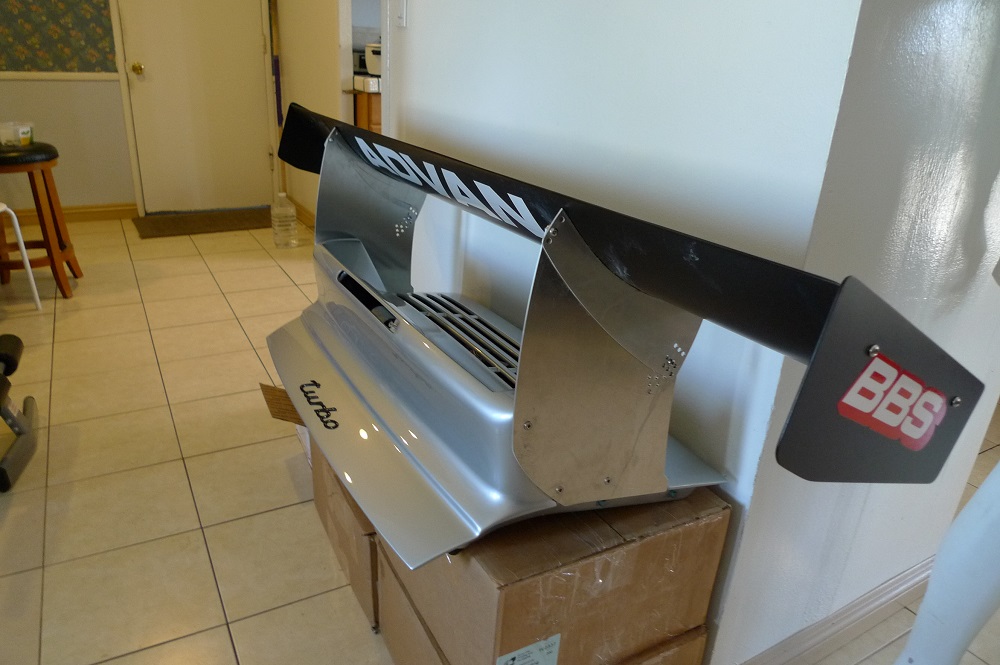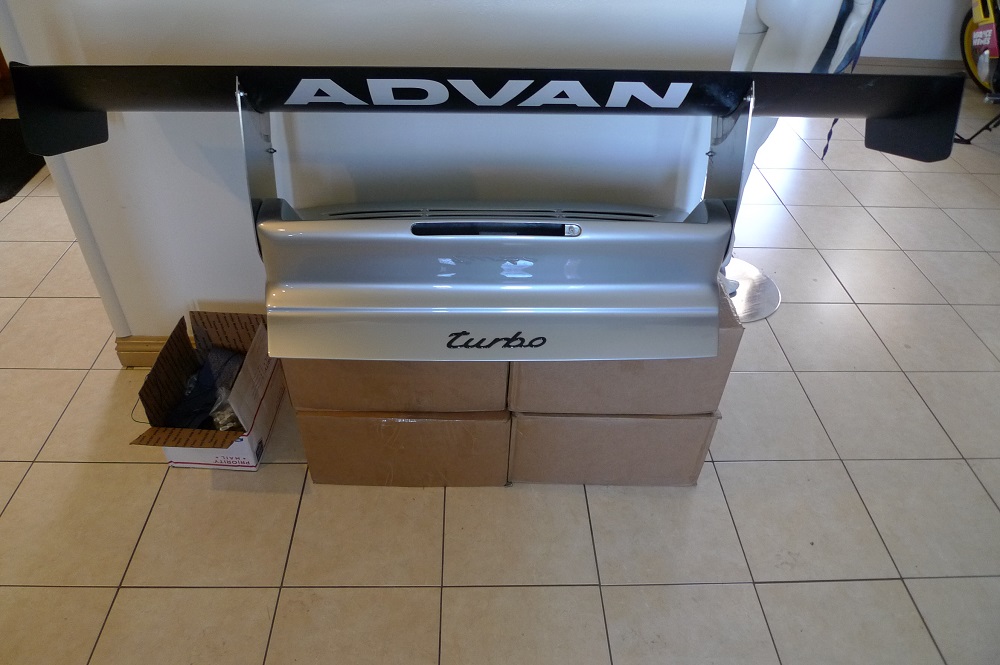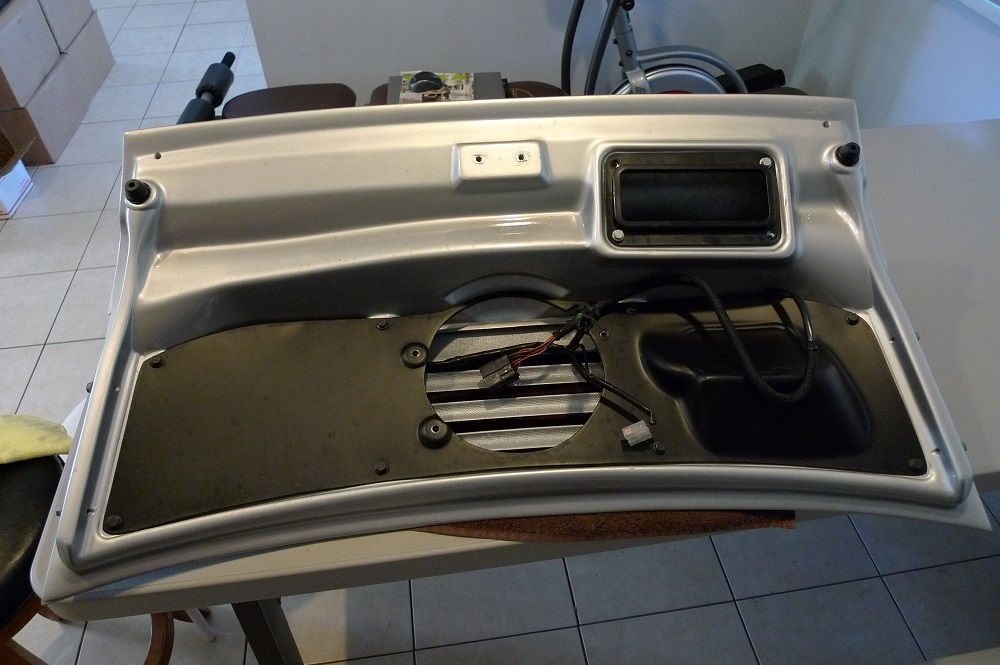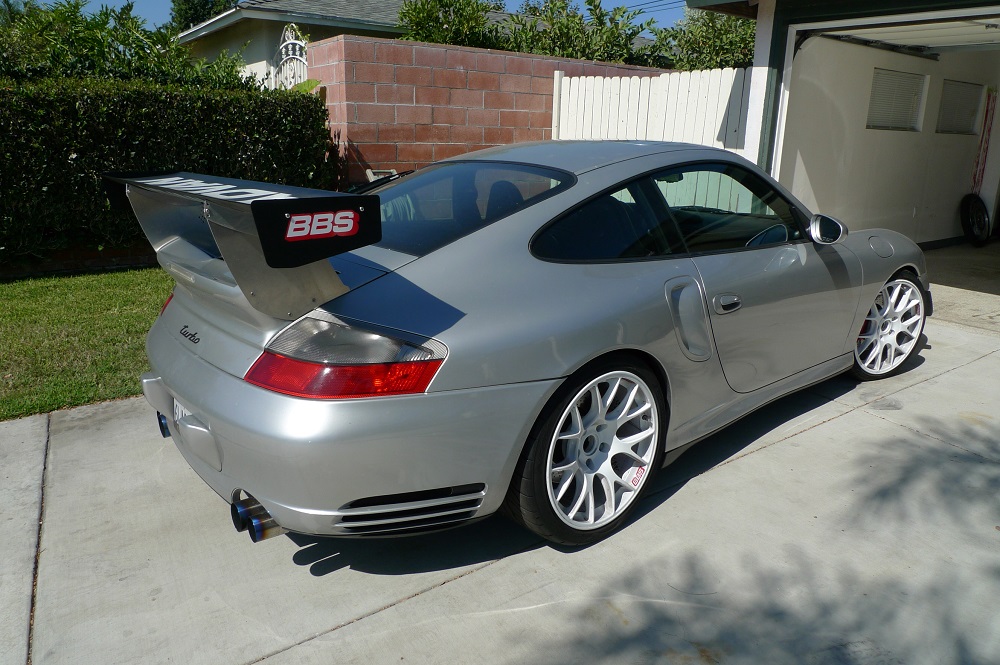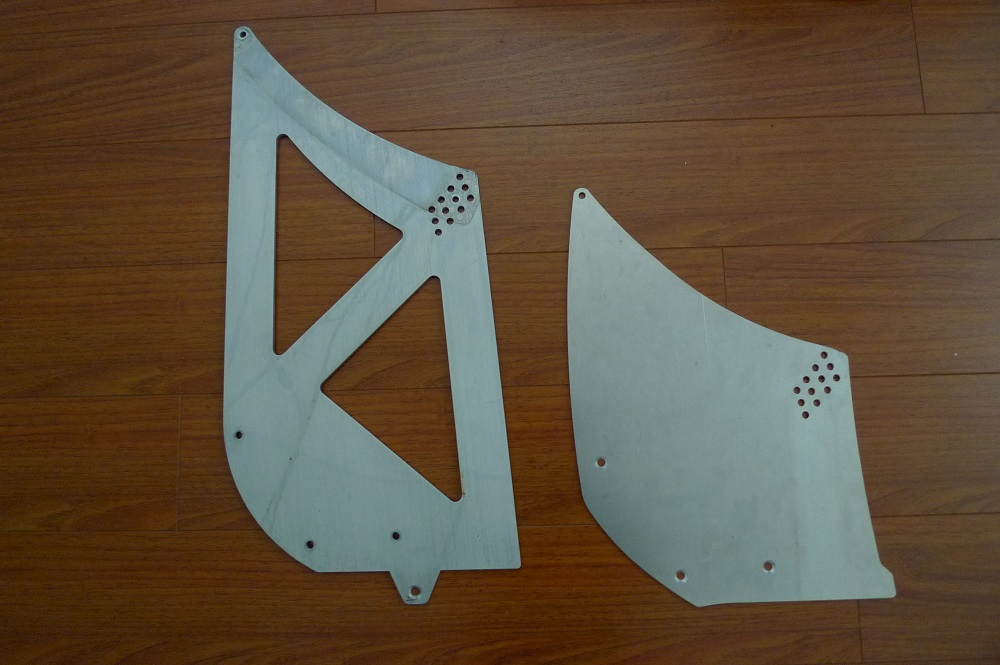 Cup GT Wing and Decklid for Porsche 996 Turbo/GT2/C4S
- 63" Cup wing made by Getty Design (same as GT Racing and MA Shaw).
- Will only fit wide body 996 cars (Turbo, GT2, and C4S).
- Professionally painted factory OEM Artic Silver. Wing blade painted matte black.
- Comes with factory GT2 fan/brake light wiring to remove factory wing motors without fault code. ($330)
- Also comes with custom uprights that will raise wing to almost roof height.
- SOLD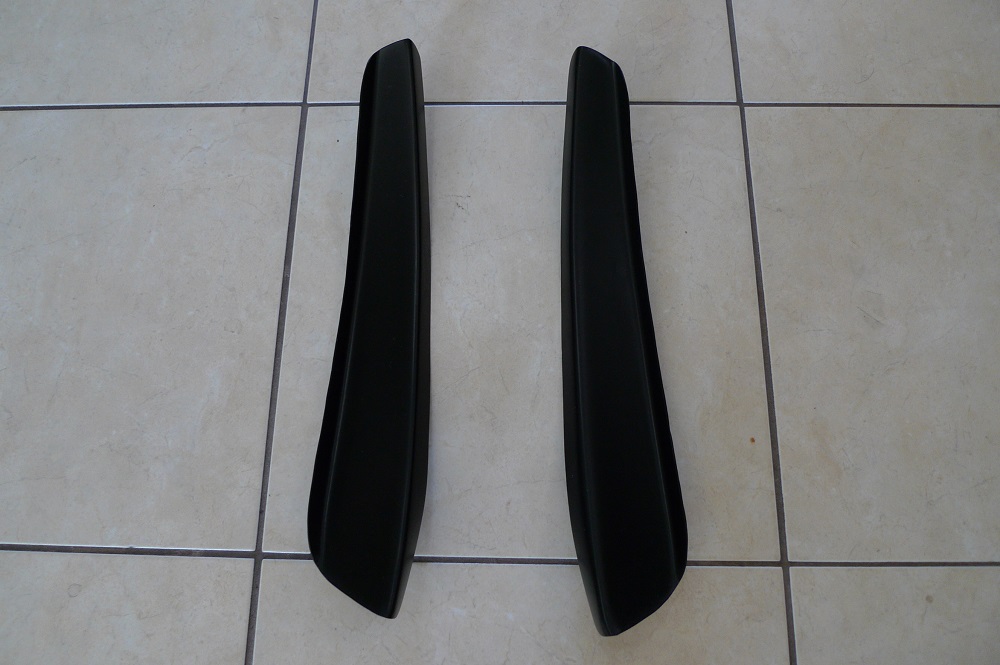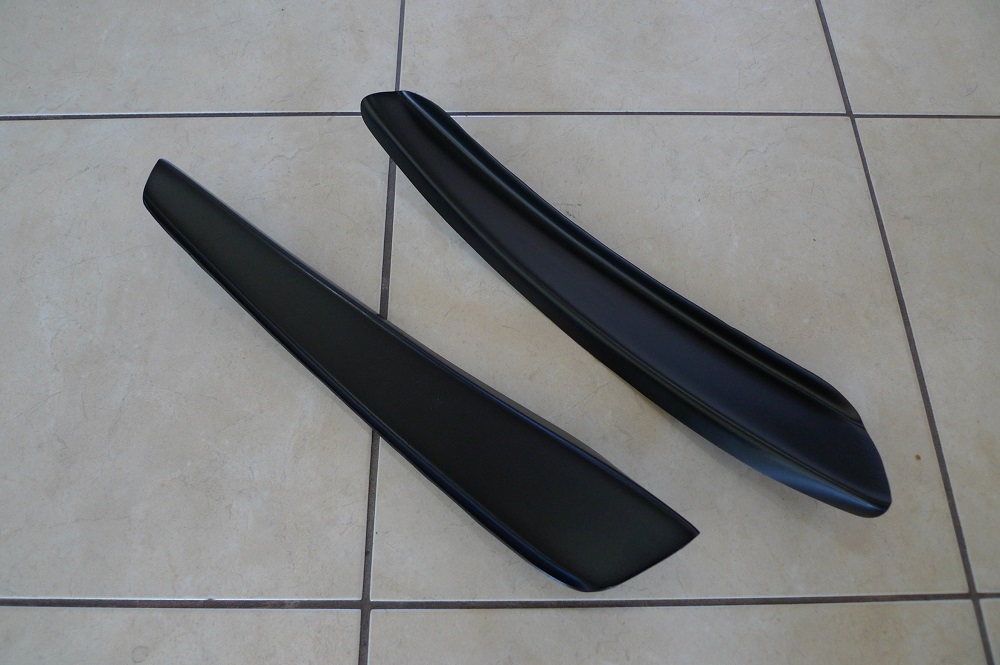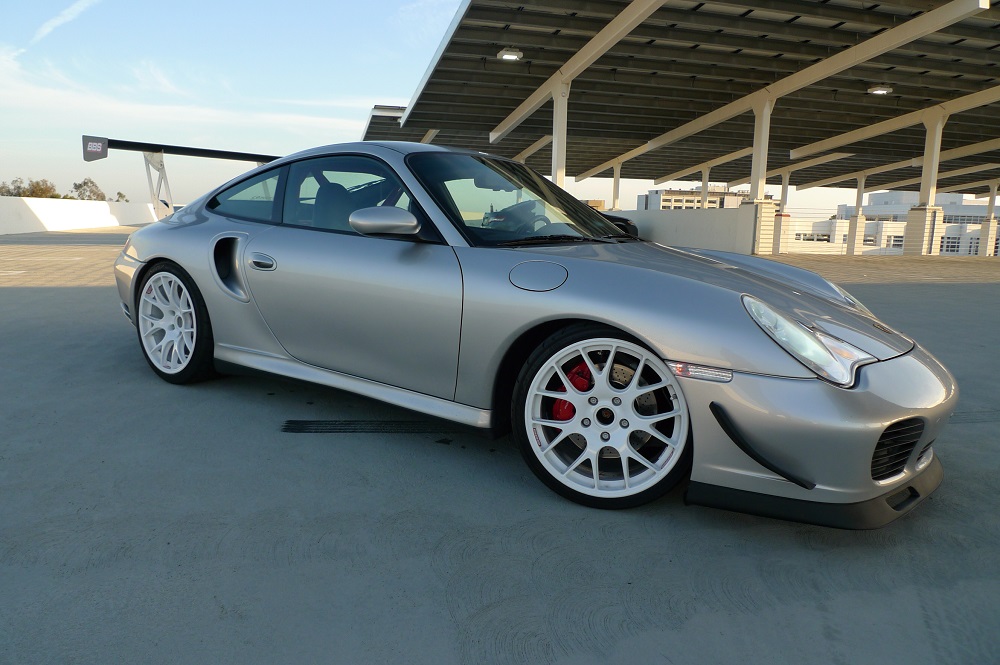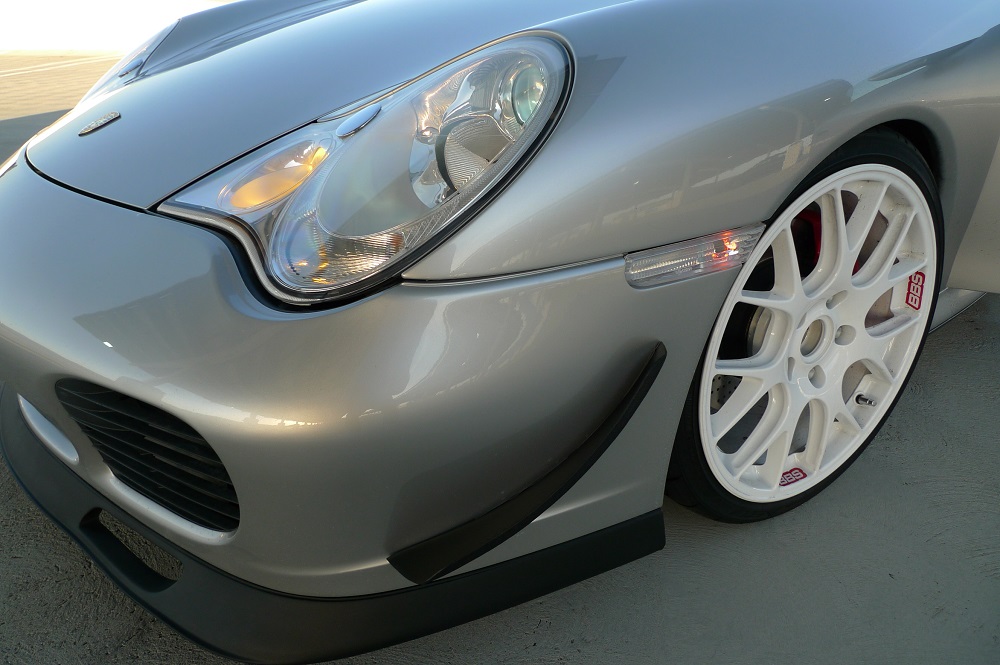 Front Bumper Dive Planes for Porsche 996
- Made to fit 996 Carerra front bumper but fits 996 Turbo as well.
- Painted semi-gloss black.
- Made out of FRP.
- No drilling needed, held on with 3M double-sided tape. Test at 150mph without problems.
- Used but in great shape.
- SOLD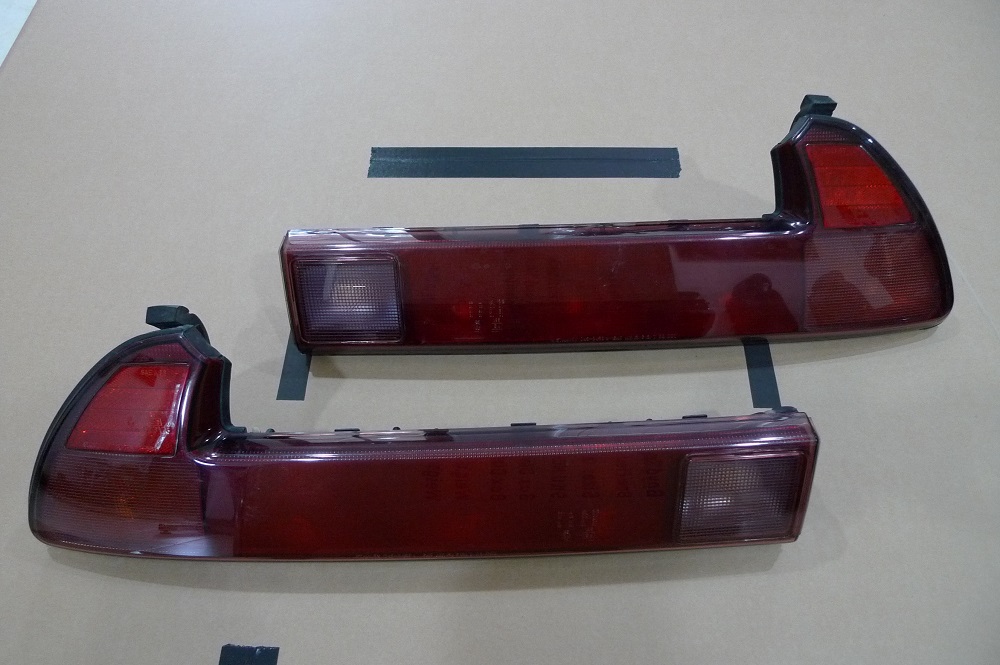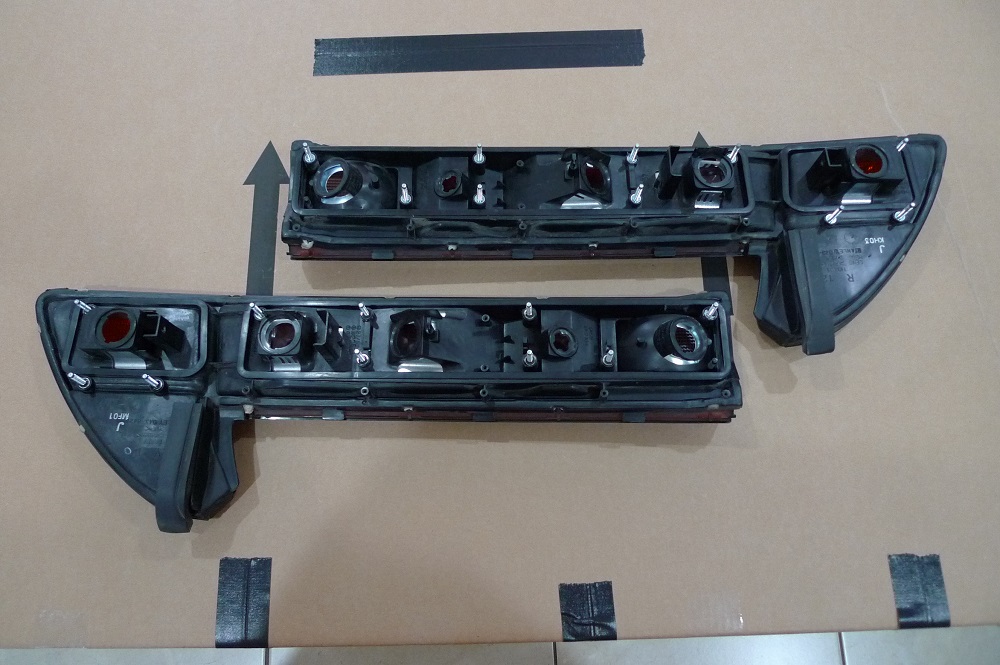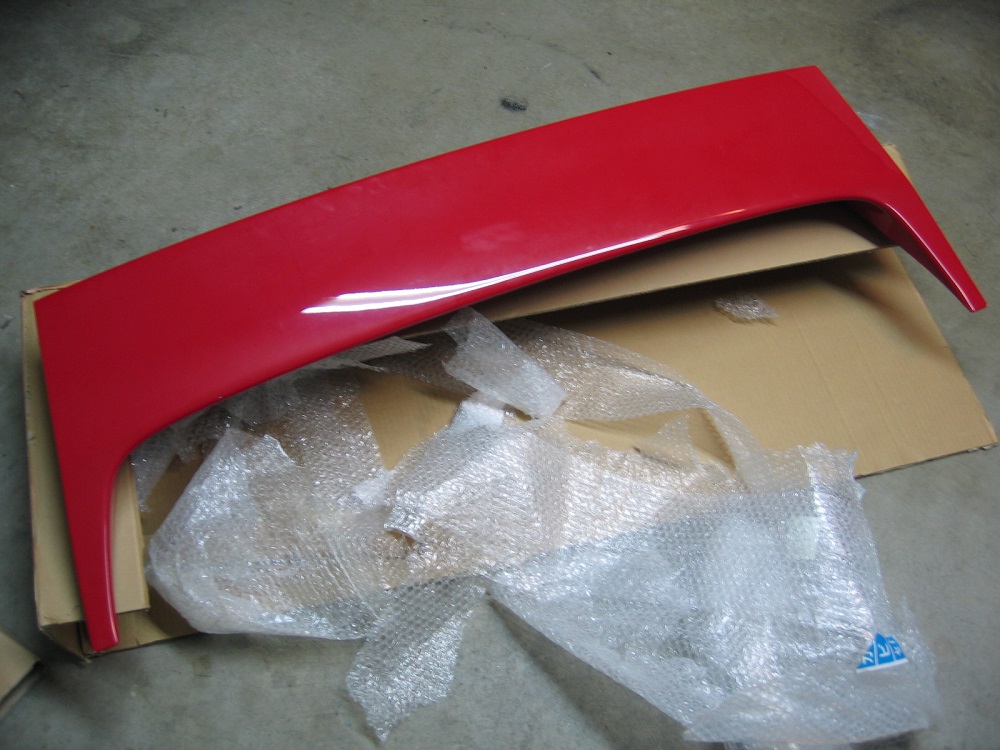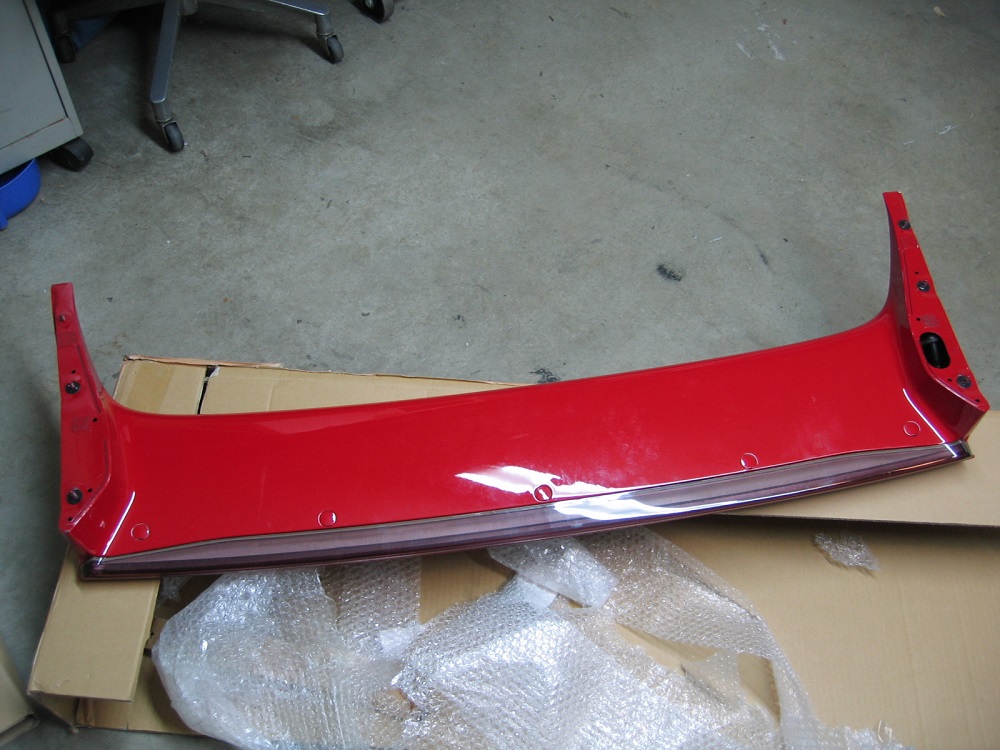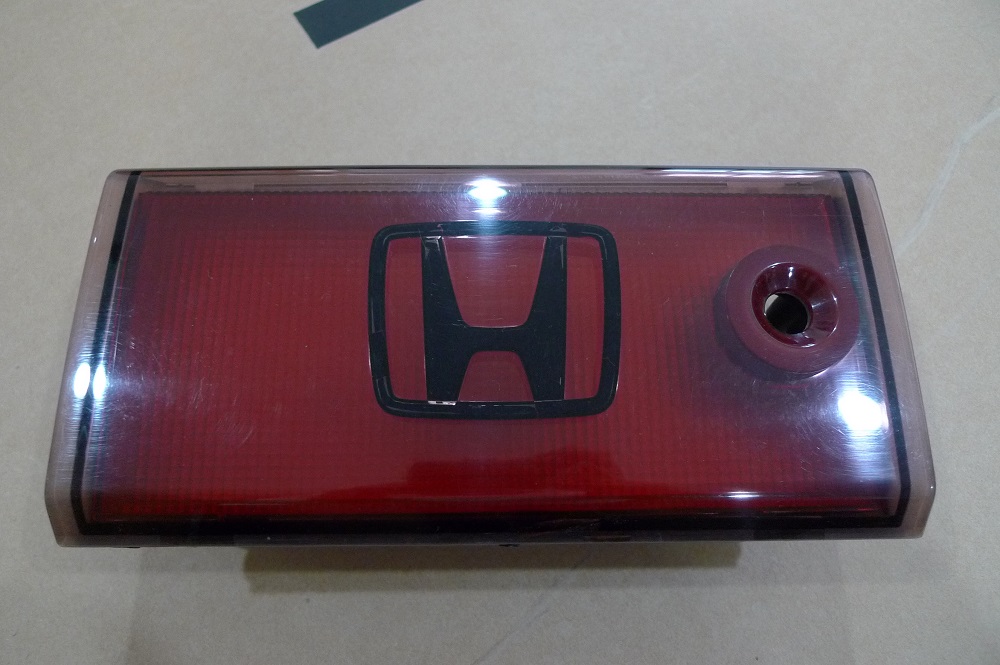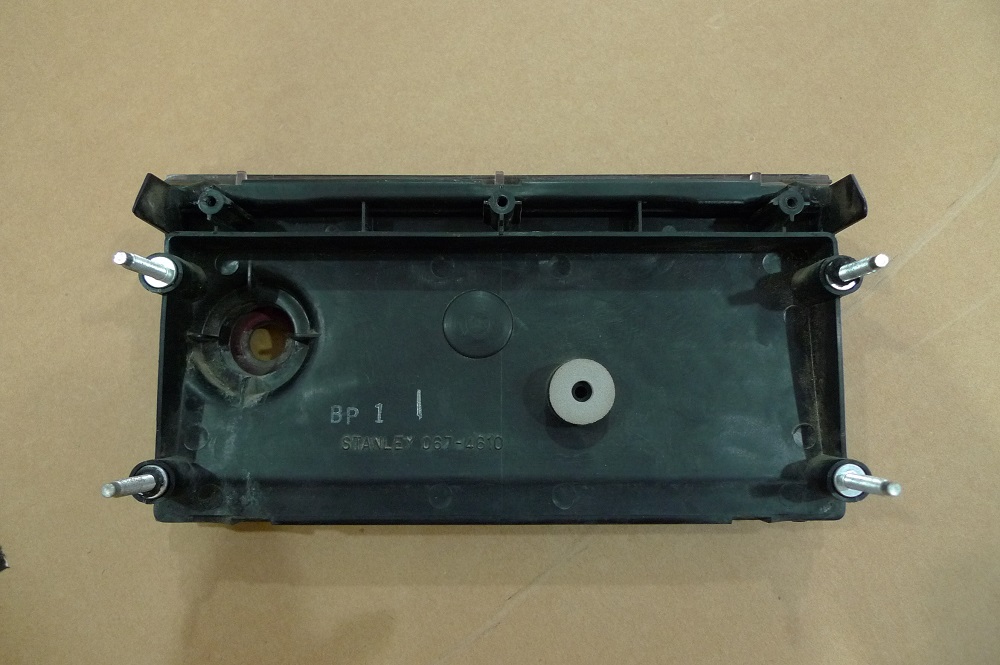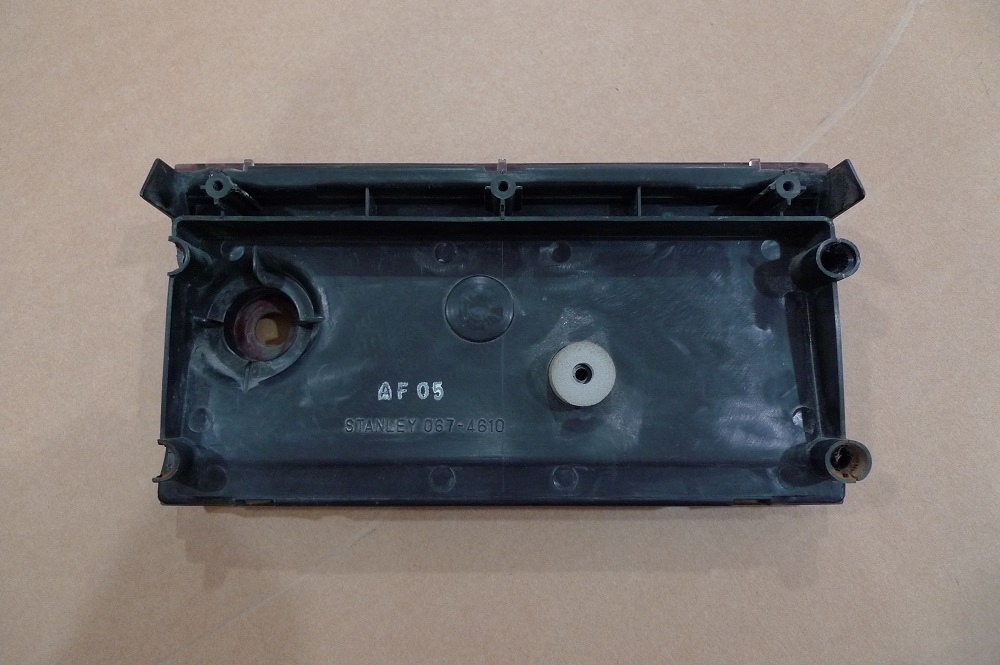 JDM NSX Dark Tail Light Set
- Fits NA1 Acura NSX.
- Used JDM NA1 outer rear lens.
- Used JDM wing with matching dark third brake light.
- Used JDM NA1 NSX-R center garnish (black logo). Slight cracking on logo.
- Used JDM NA1 NSX center garnish (chrome logo). Studs are broken.
- SOLD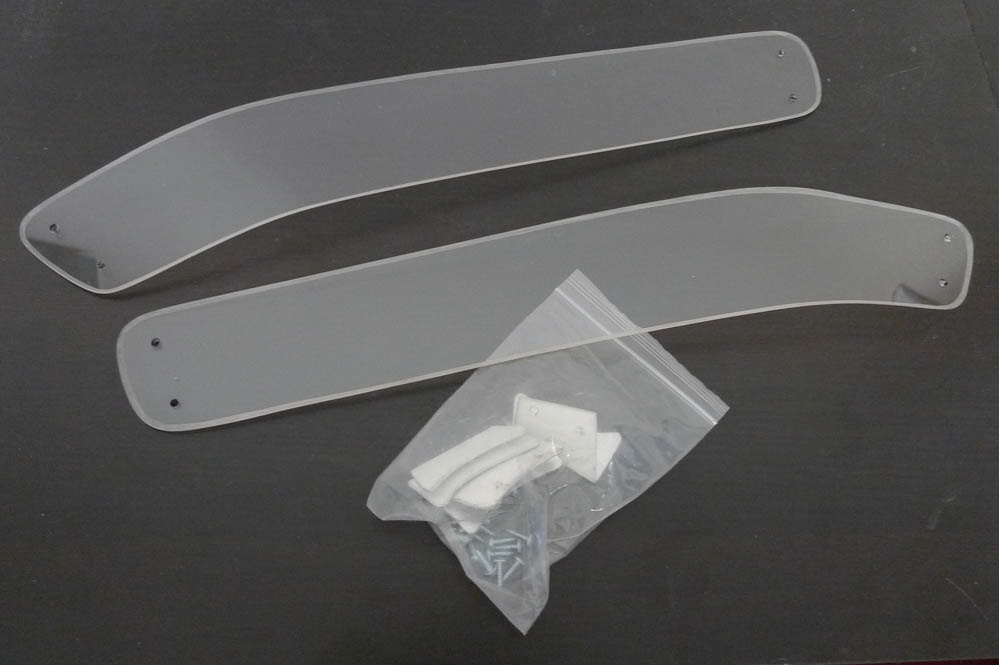 Route KS Bumper Light Covers for NSX
- Fits 91-01 Acura NSX front bumper.
- Covers front turn signals and cleans up bumper.
- Rare and now discontinued.
- Similar to Mugen version.
- Authentic and made in Japan.
- Brand new condition, never installed.
- SOLD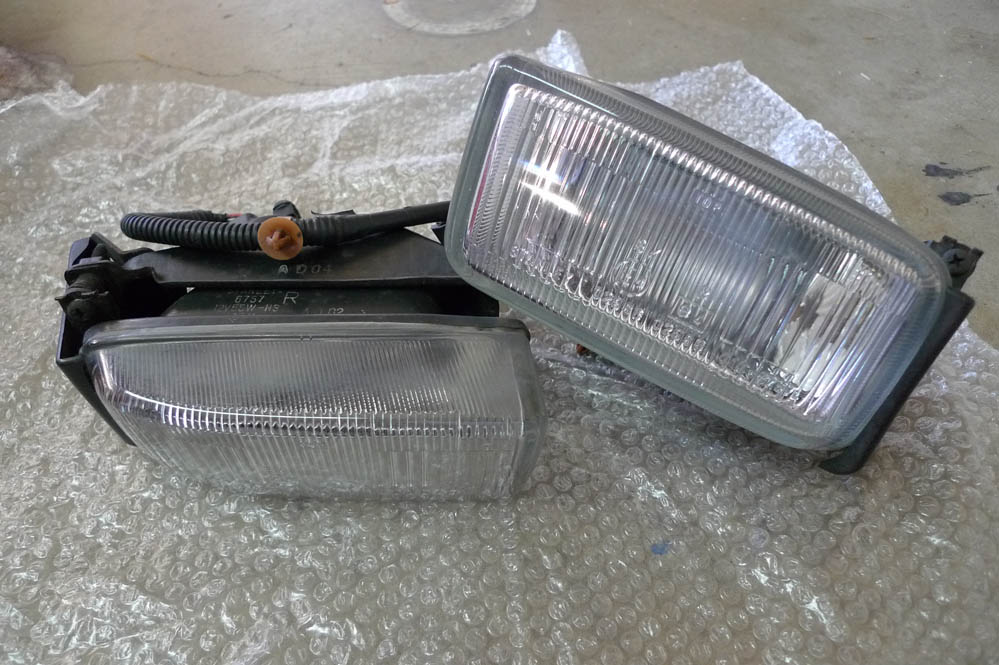 OEM JDM NSX Foglights
- Fits 91-01 Acura NSX front bumper.
- Comes with brackets and some wiring as seen.
- Rare and now discontinued.
- Used condition.
- SOLD



Mugen License Plate Bolts/Screws
- Great for mounting license plates or decorating engine bay.
- Authentic and brand new.
- SOLD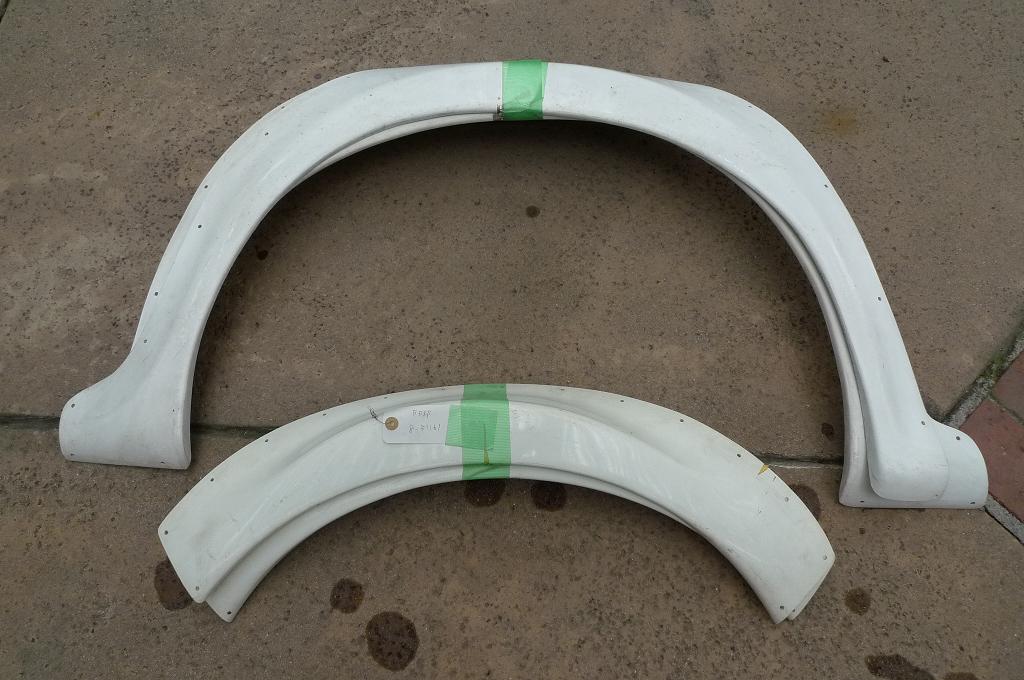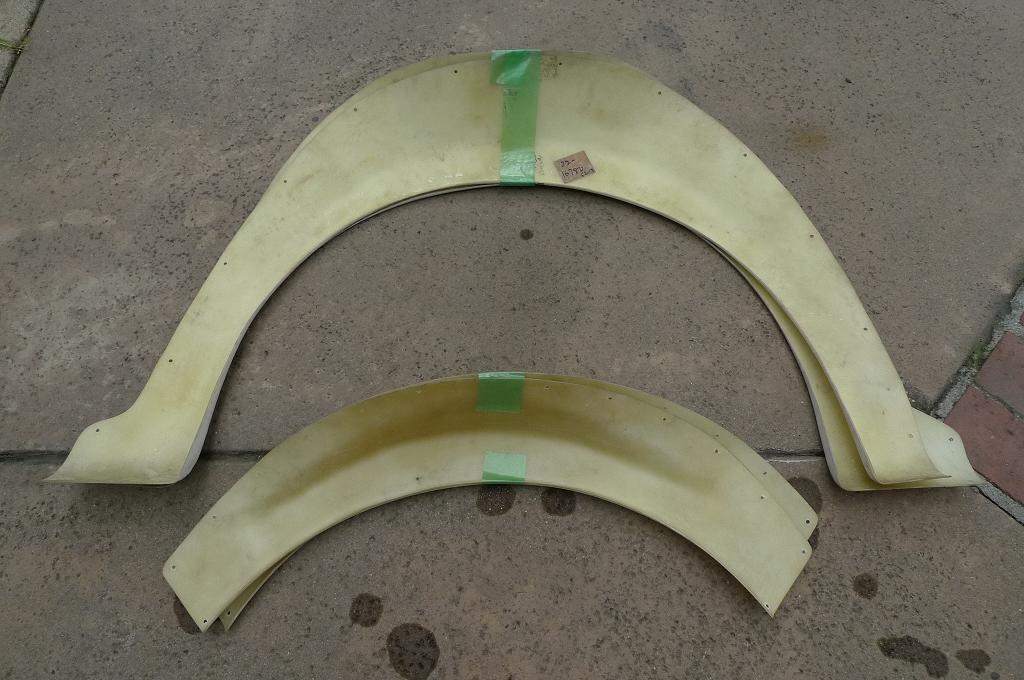 Pan Speed GT2001 Front and Rear Over Fender Flares
- Fits 93-95 Mazda RX-7 FD.
- FRP bolt over flares.
- Authentic, not replica.
- Never been used, mint.
- SOLD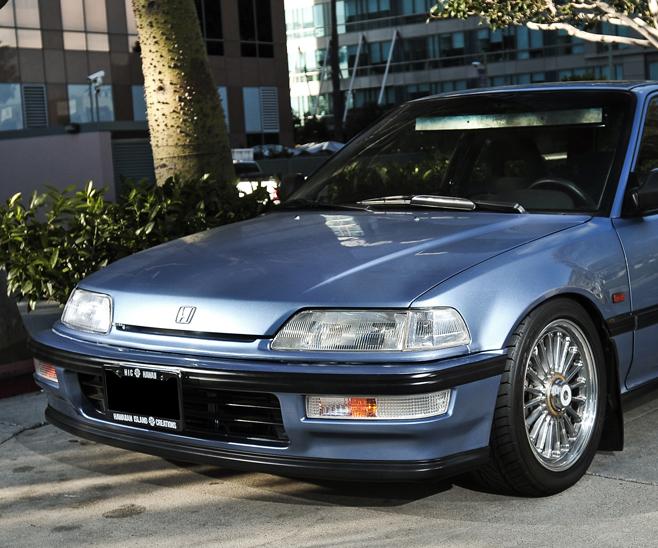 JDM Civic EF Front Lip
- Fits '90-91 JDM front bumper.
- Original OEM part.
- Used condition.
- SOLD





Mugen Emblem for Aero Parts
- 110mm emblem that's made to fit Mugen aero parts (wings, lips, kits).
- Used condition.
- SOLD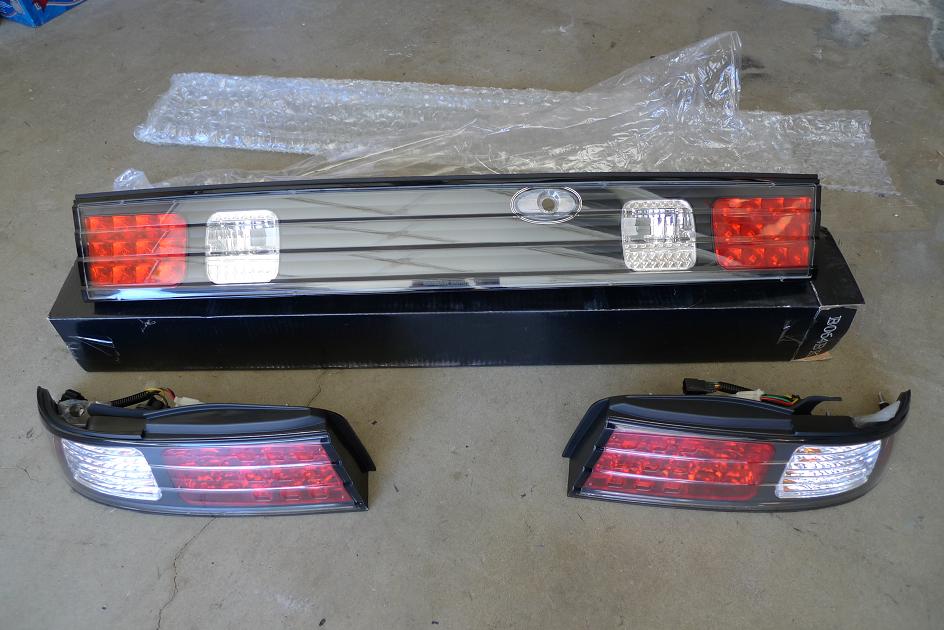 Sonar LED Taillights
- Fits 95-98 Nissan 240SX/Silvia S14.
- LED version of the Kouki 97-98 style taillights.
- Same exact brand as the ones sold by many companies in Japan.
- Barely used.
- SOLD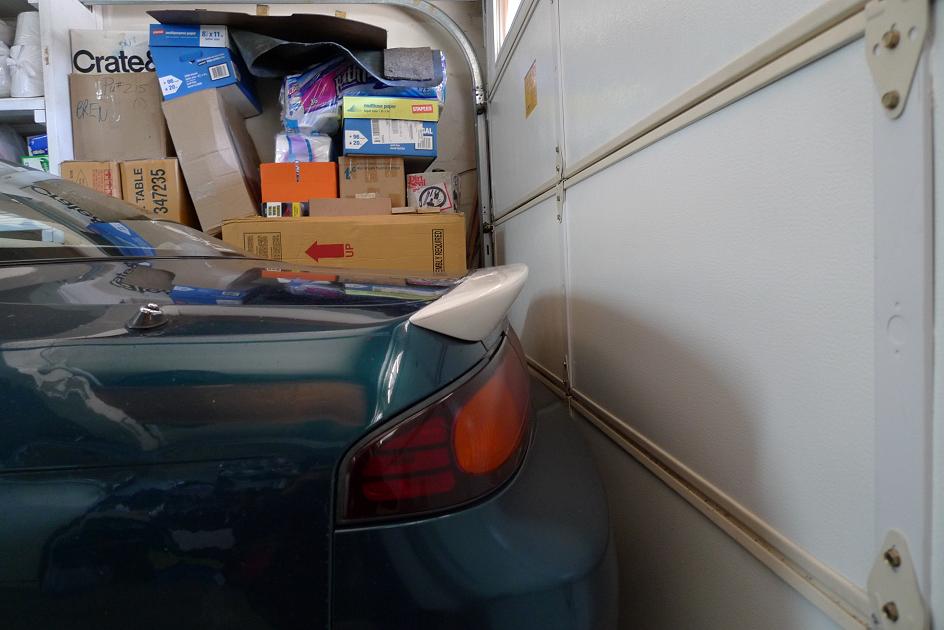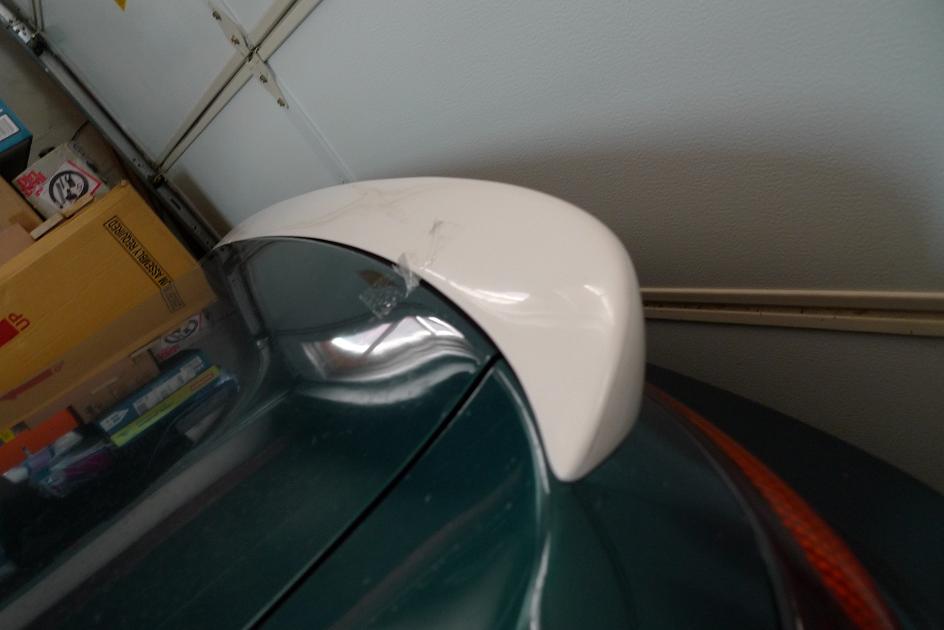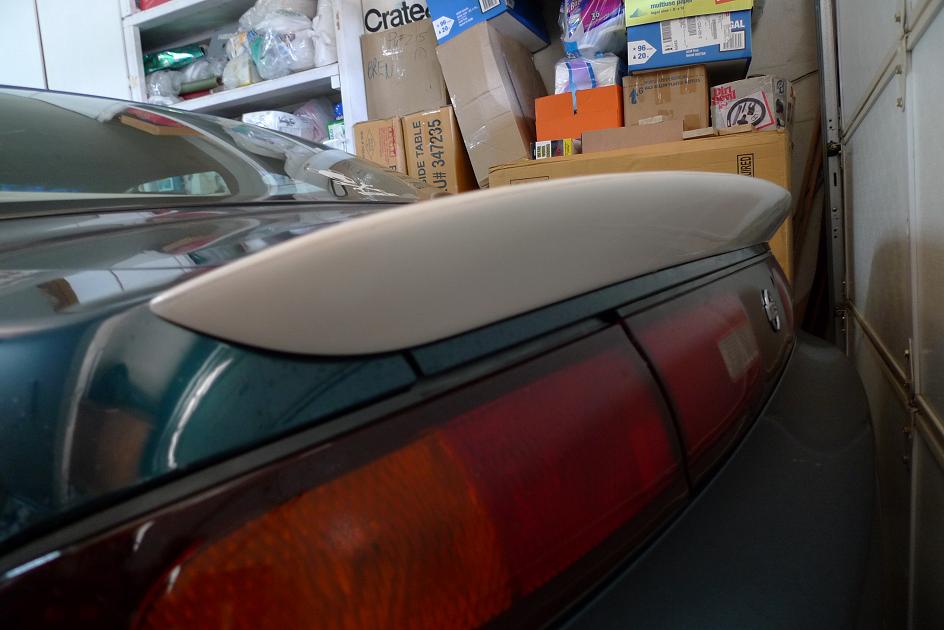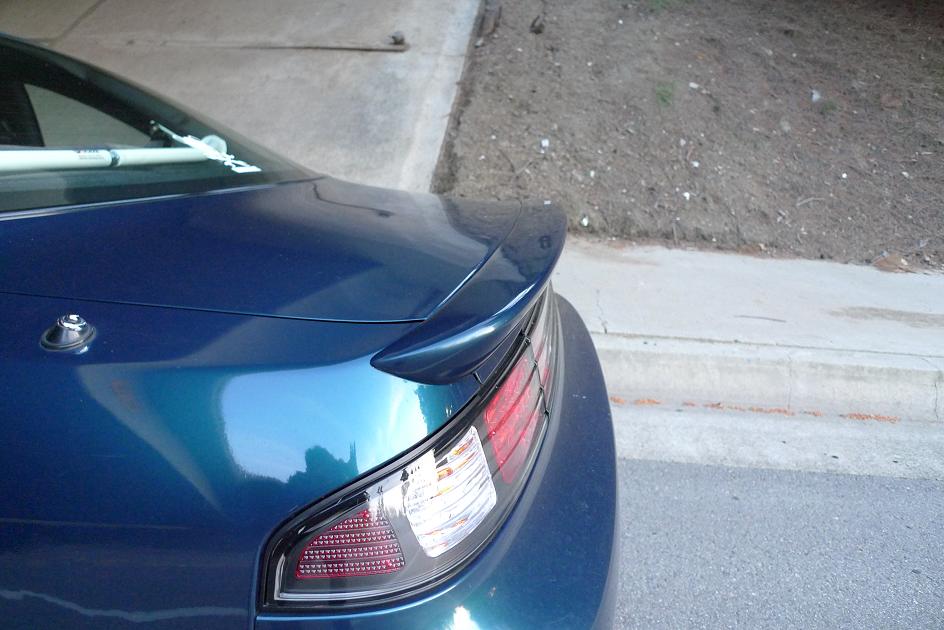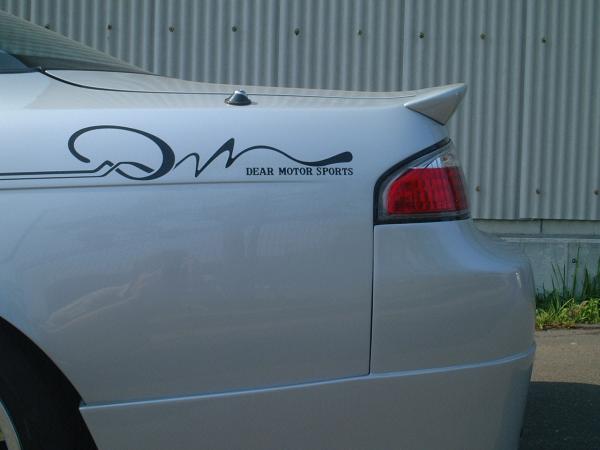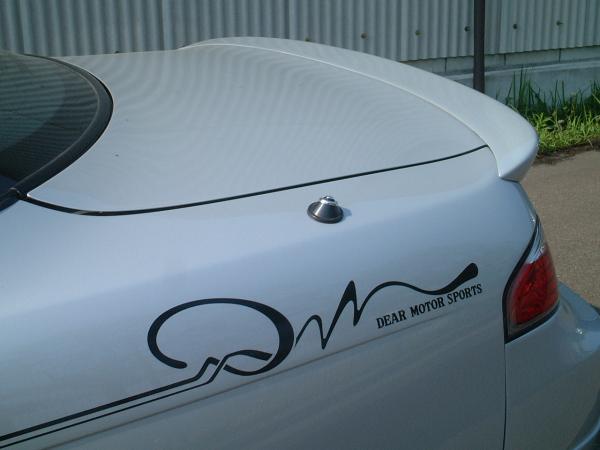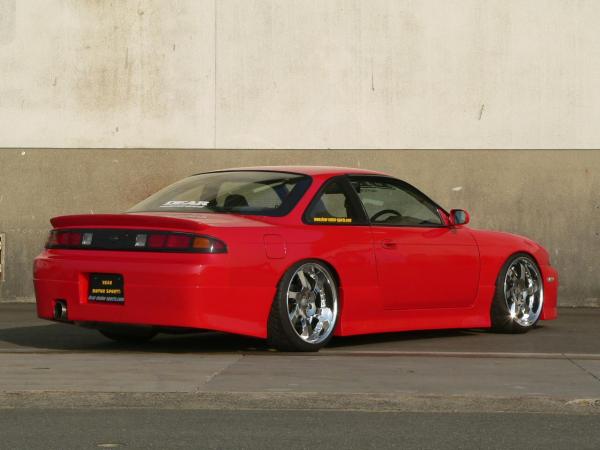 Dear Motor Sports Rear Spoiler Wing for S14
- Fits 1995-98 Nissan 240SX.

- Rare Japanese item.
-
Currently painted OEM Emerald Blue.
- Used condition.
- SOLD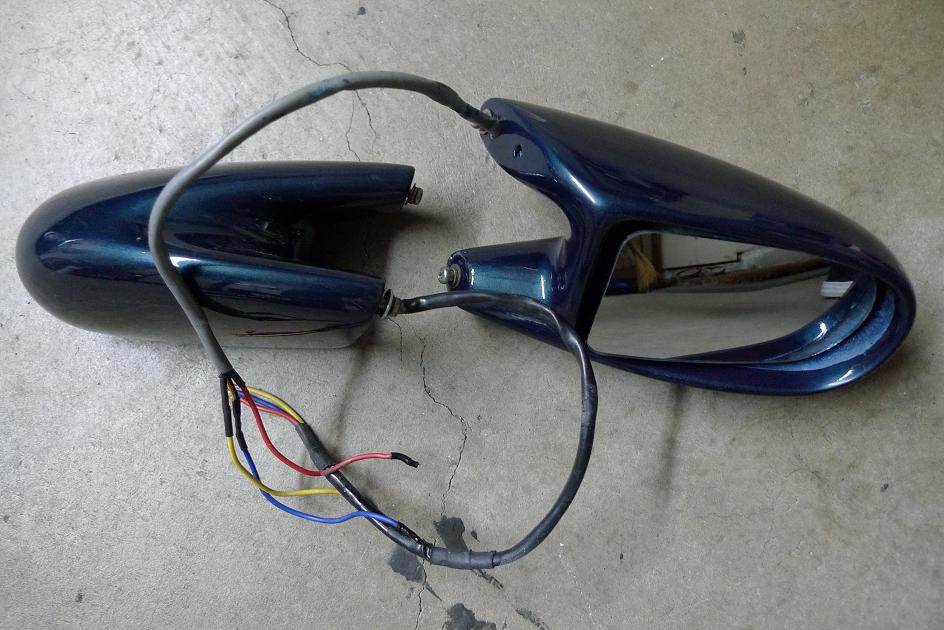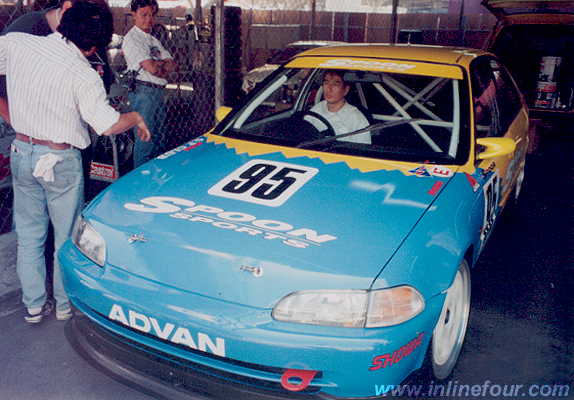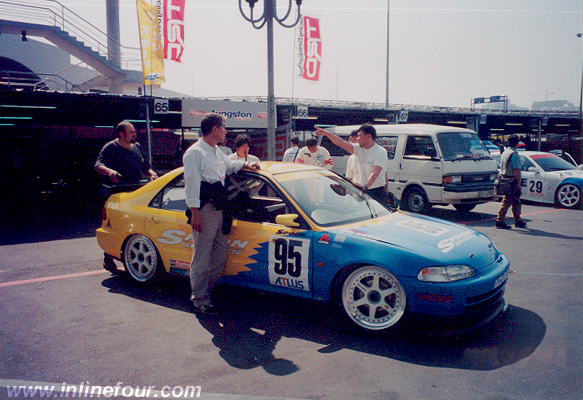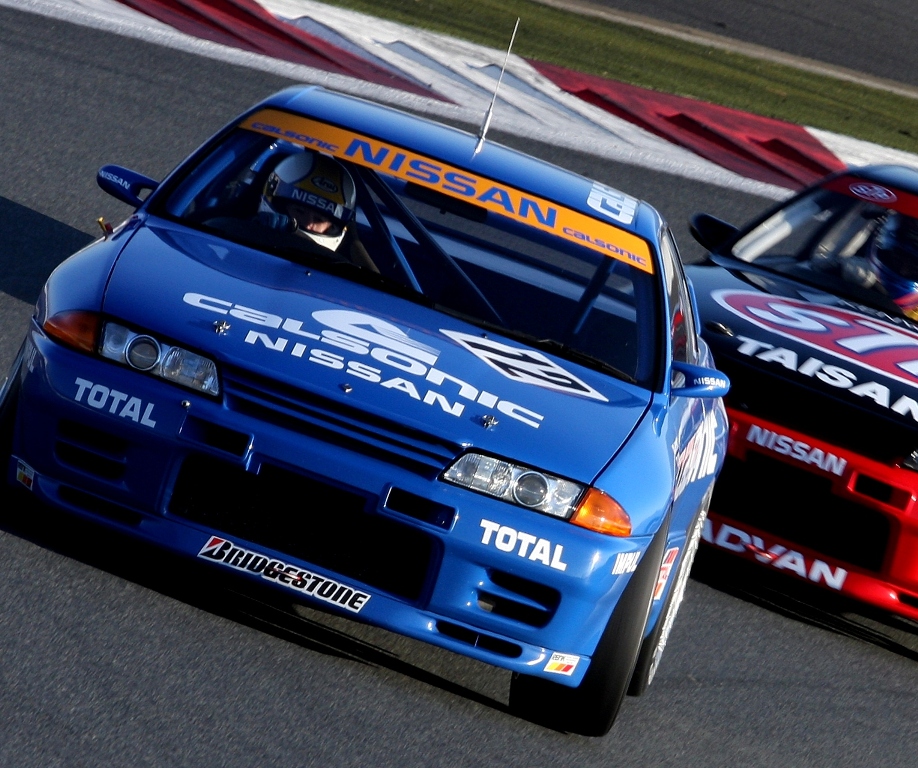 Bandoh EC Works Type-94C Mirrors (powered version)
- Old skool lightweight N1 race mirrors.

- One of the most popular race mirrors from the 70s, 80s, and early 90s.
- Also sold under the brand Bandoh Racing, Sealazone, Bee*R, C Miller, and many others.

- No base plates.
- Used condition.
- SOLD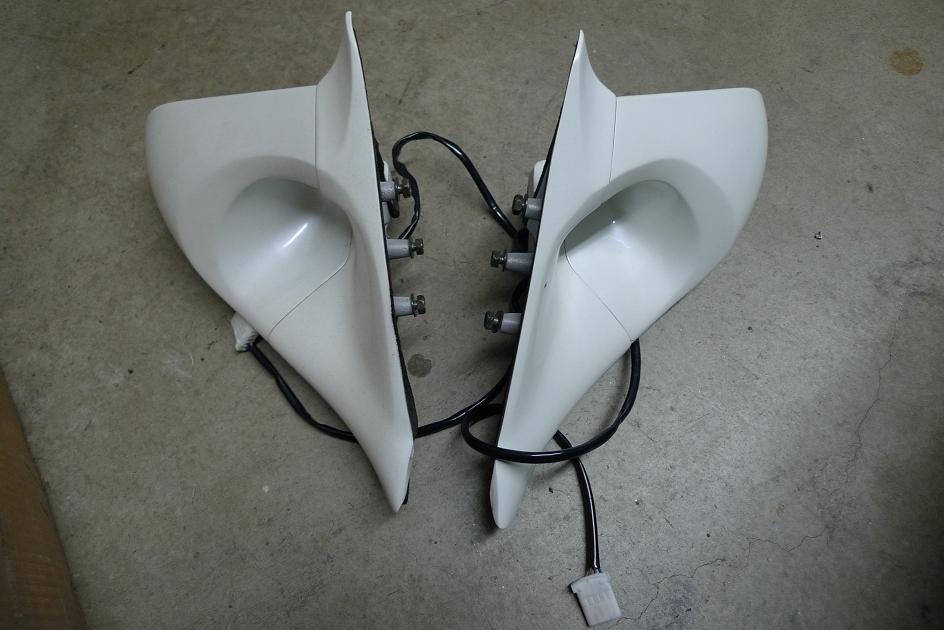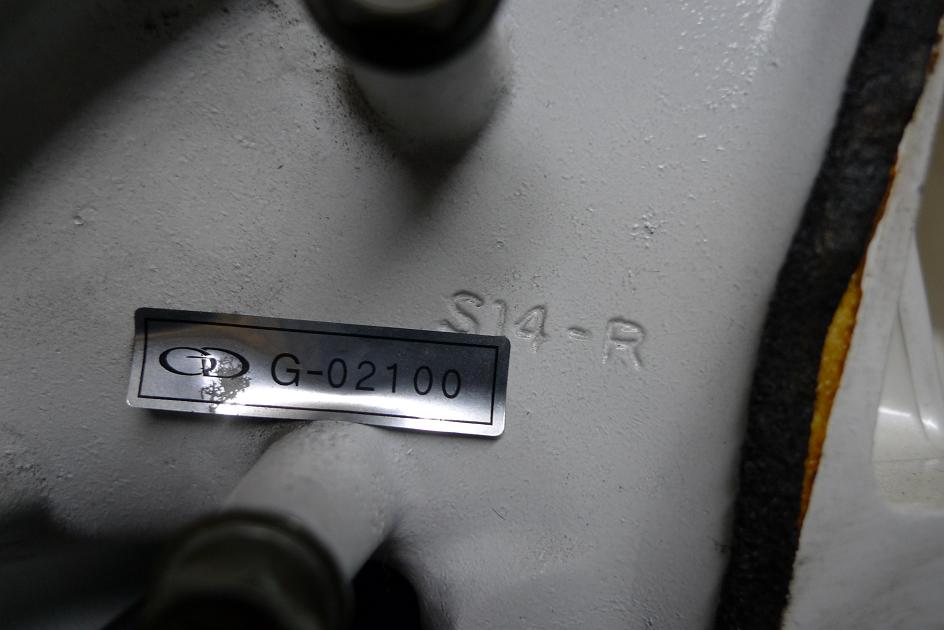 Ganador Mirrors
- Genuine JDM mirrors for 1995-98 Nissan 240SX S14.
- Used condition.
- SOLD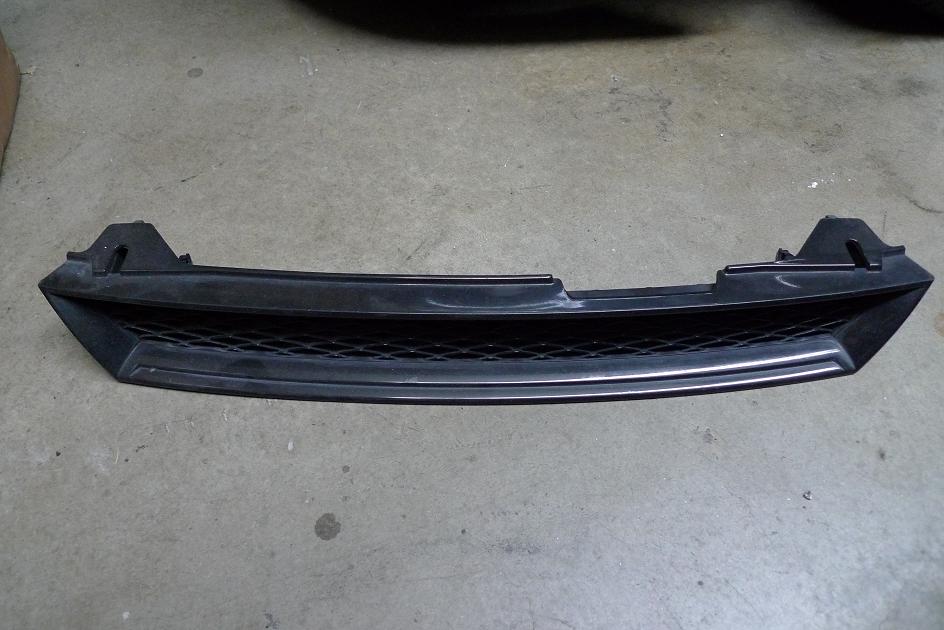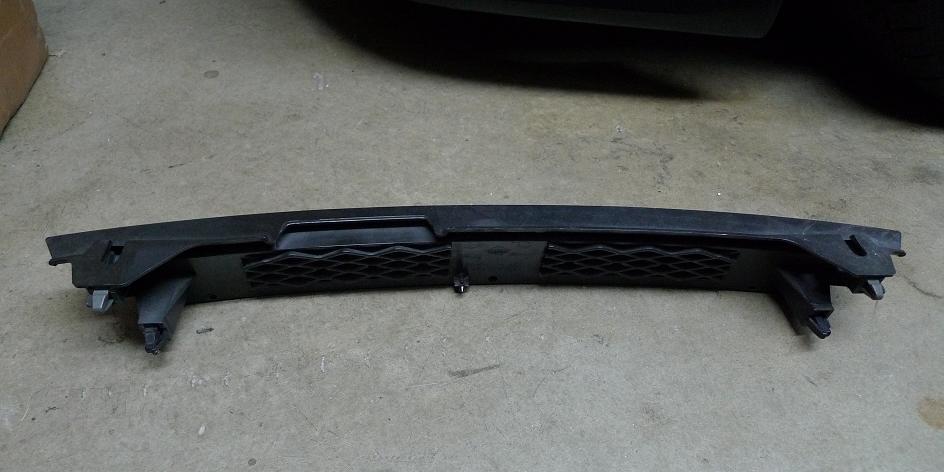 JDM Nissan S14 Kouki Grille
- Fits 1997-98 Nissan 240SX S14.
- Used condition.
- SOLD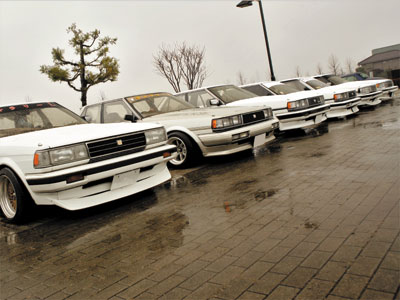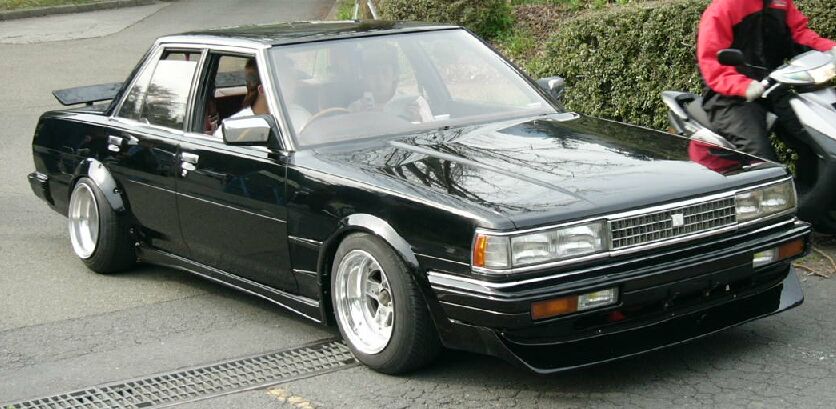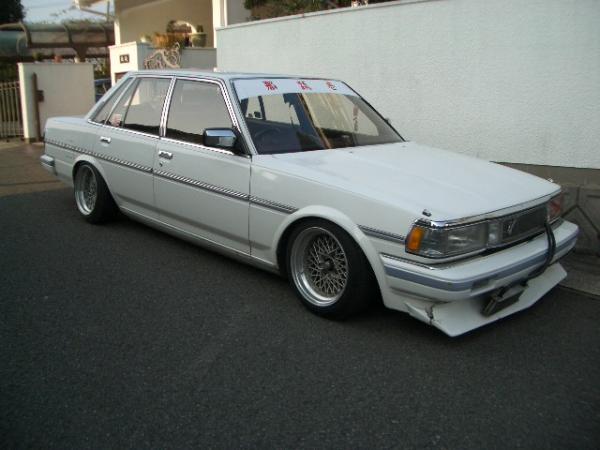 JDM Aftermarket X7 Front Lip
- Fits 85-88 Toyota Cressida.
- Brand new. Never painted or installed.
- SOLD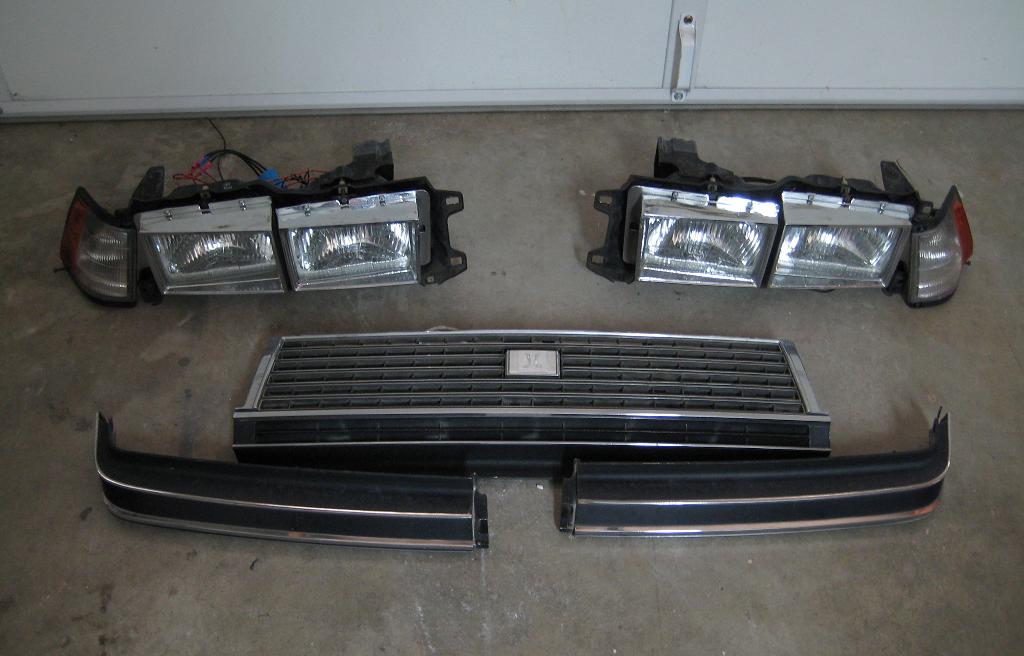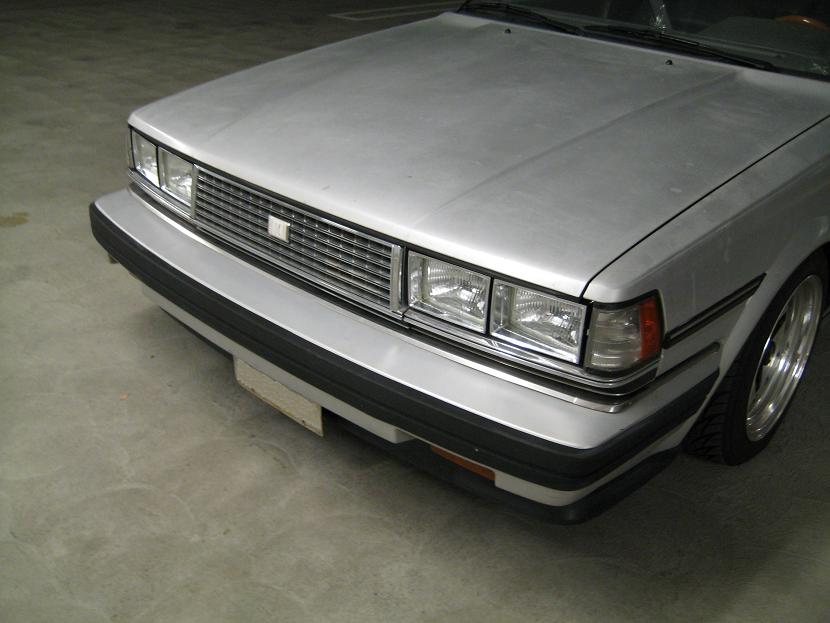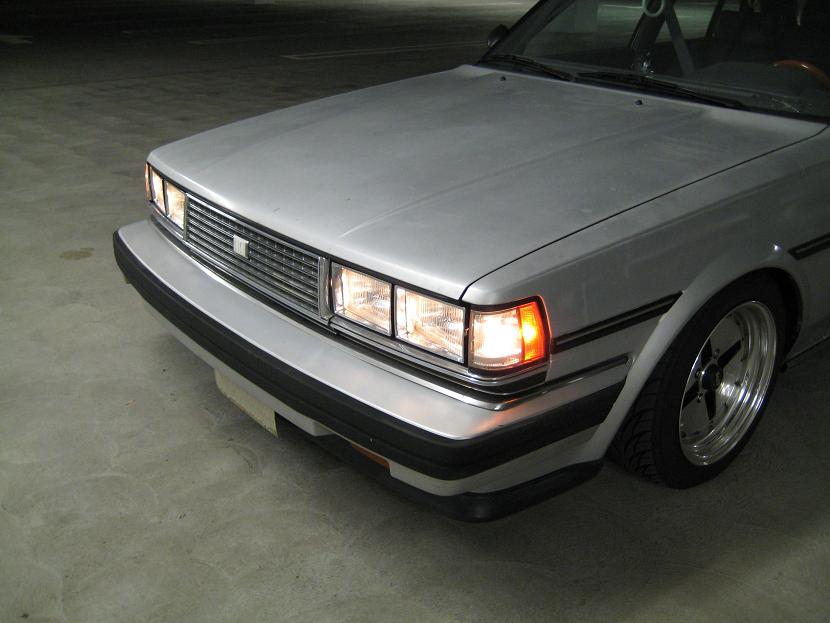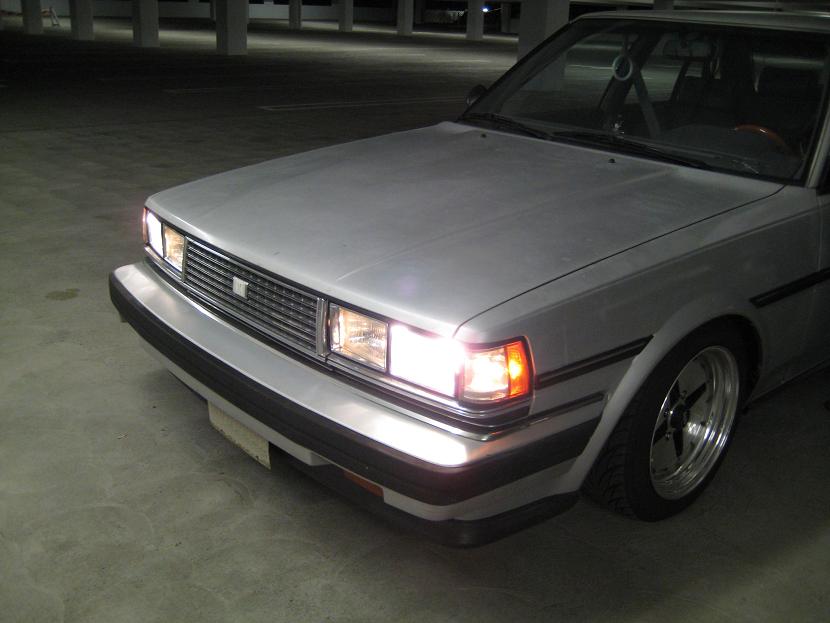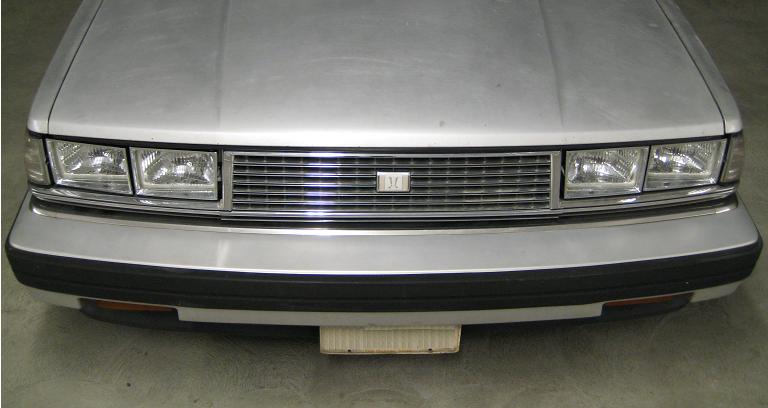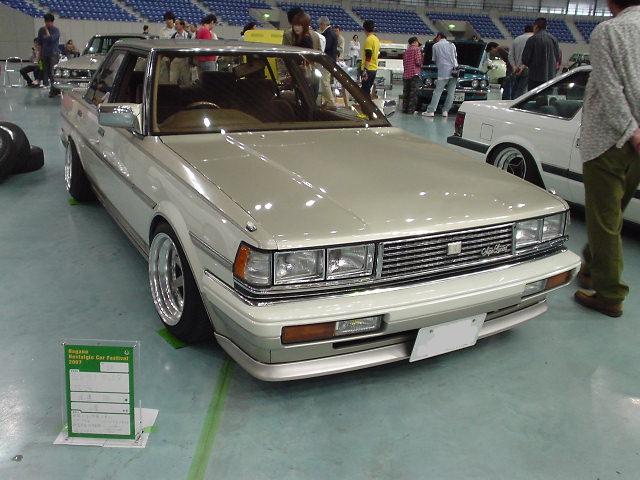 JDM GX71 Cresta Front End Conversion
- Headlights, brackets, corner lamps, grille, and under headlight trim.
- Comes with aftermarket H4 headlights with built in city lights.
- Custom harness made for plug and play.
- Fits 85-88 Toyota Cressida.
- Extremely rare and expensive, even in Japan.
- Used condition.
- SOLD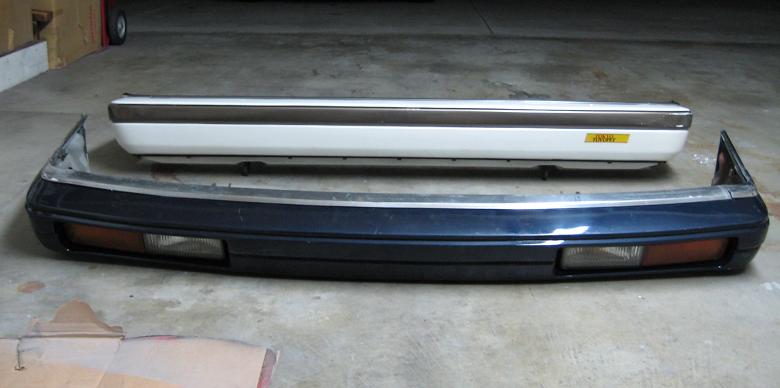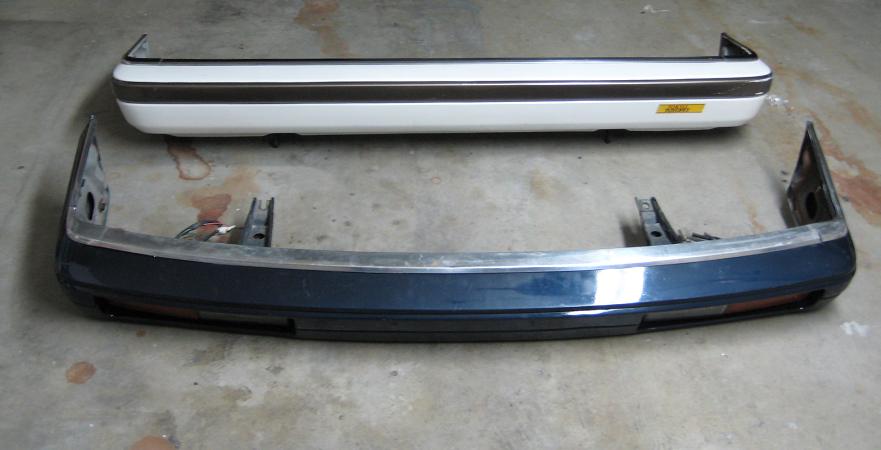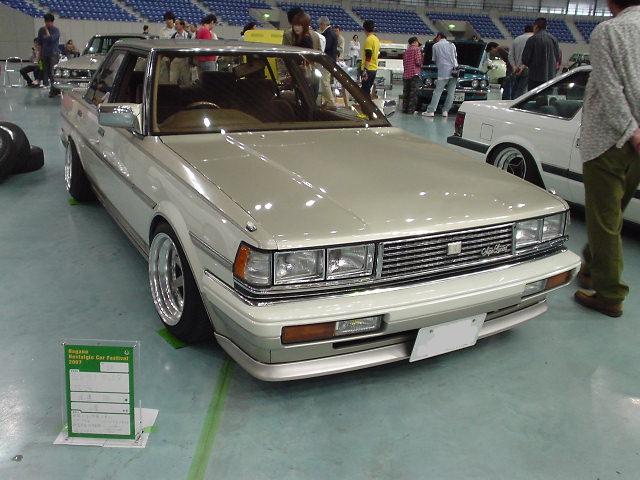 JDM Kouki GX71 Bumpers
- Fits 85-88 Toyota Cressida.
- Front bumper from a GX71 Cresta, and rear bumper from a GX71 MarkII.
- Front bumper comes with factory long signal lights and fog lights.
- Rear bumper has thinner molding to match front bumper.
- Complete with brackets.
- Used condition. Heavy, no shipping.
- SOLD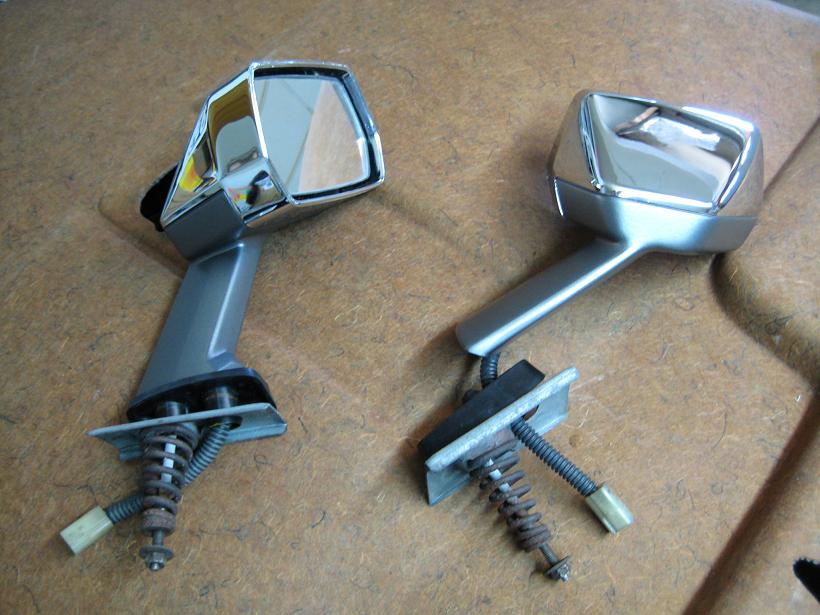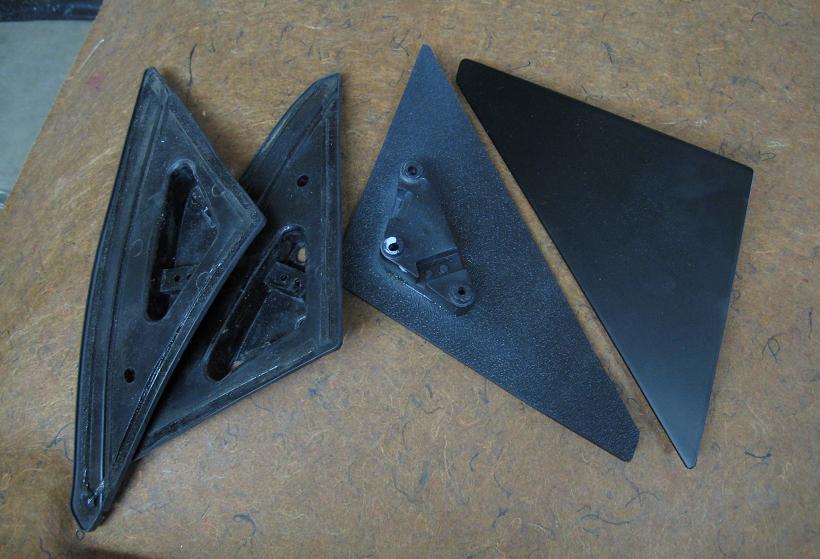 JDM X7 Fender Mirrors
- Fits 85-88 Toyota Cressida.
- Came off a MarkII GX70 wagon.
- Extremely rare. Was not available on GX71 MarkII sedans or later model GX70 wagons.
- Comes with custom made bases, to cover factory mirrors. Screws with OEM gasket.
- Used but backside was recently powder coated grey, and front plastic rechromed. Mint!
- SOLD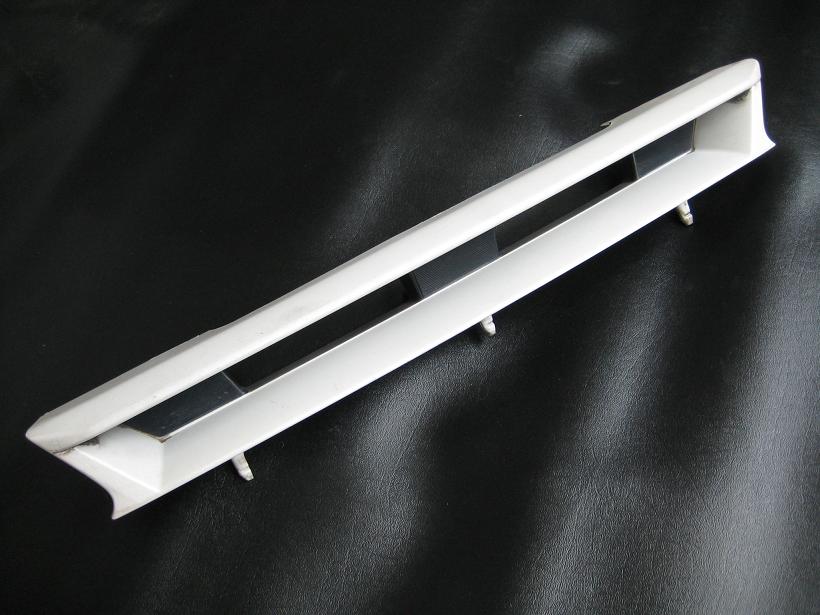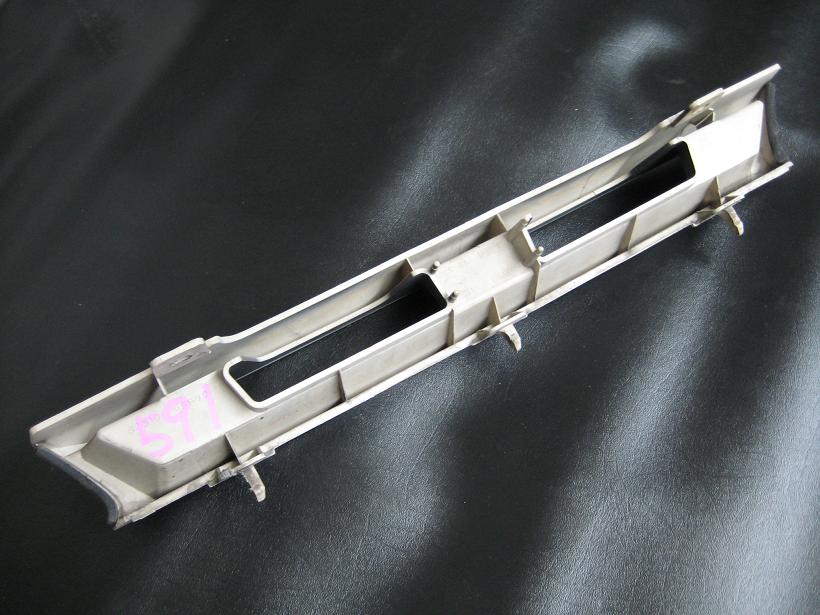 JDM/USDM S14 Zenki Aero Grille
- Fits 95-96 Nissan 240SX.
- OEM pearl white.
- SOLD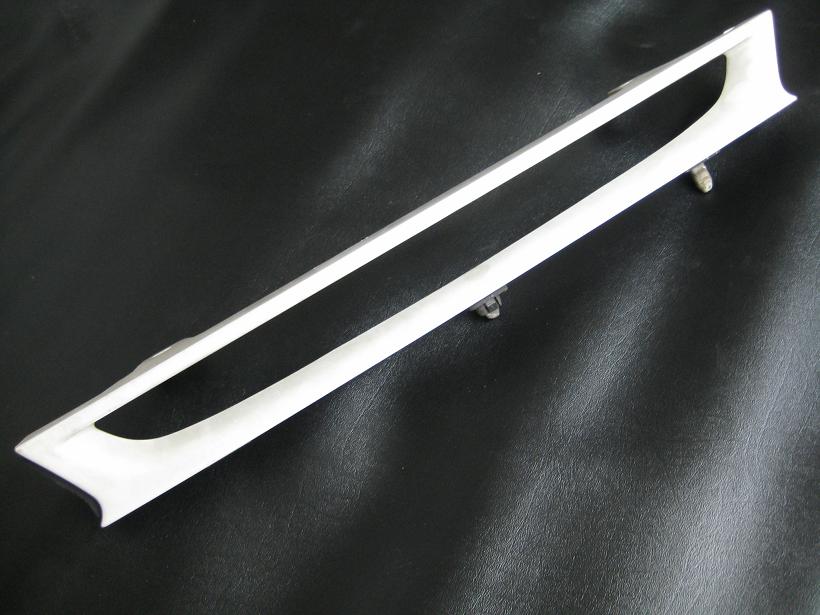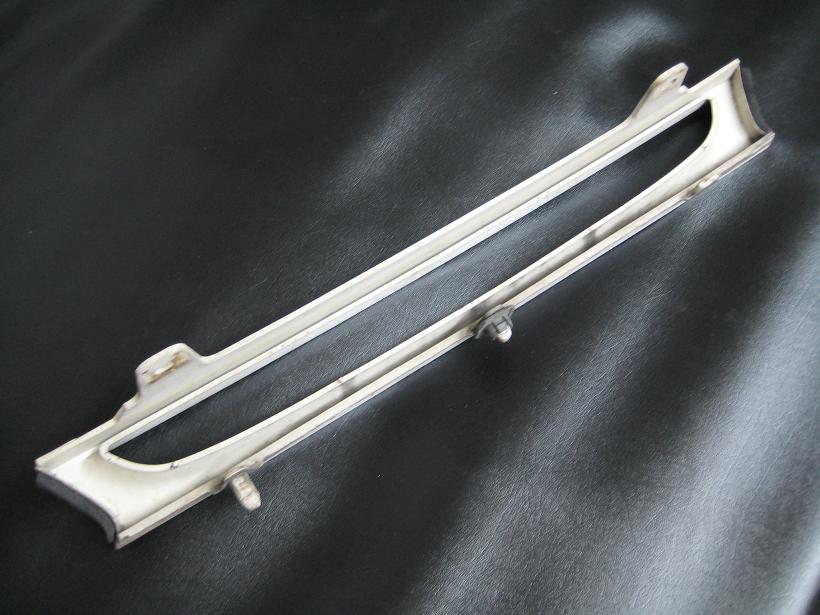 JDM S14 Zenki Navan Grille
- Fits 95-96 Nissan 240SX.
- OEM and made of plastic, not the cheap FRP ones.
- Screen mesh was removed. .
- One broken tab on the left side, won't affect install.
- OEM pearl white.
- SOLD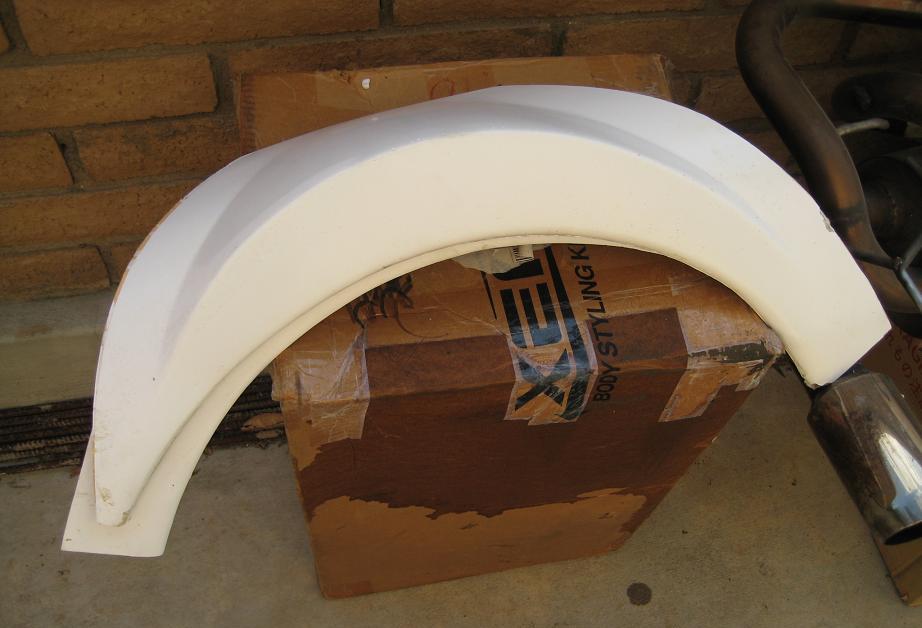 Pan Speed GT2000 Front Over Fender Flares
- Fits 93-95 Mazda RX-7 FD.
- FRP bolt over front flares.
- Authentic, not replica.
- Never been used, mint.
- SOLD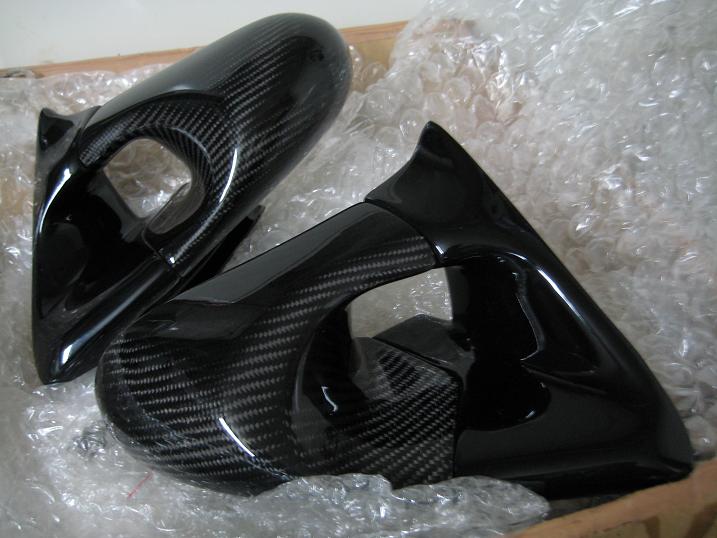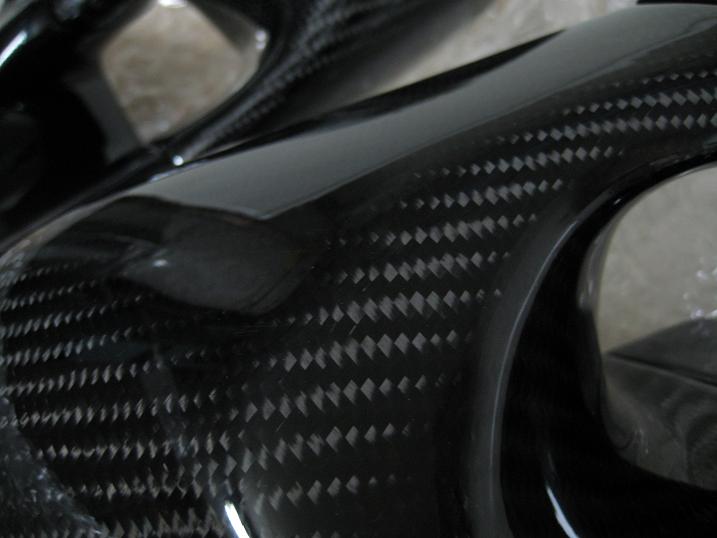 Ganador STYLE Mirrors
- Fits 93-95 Mazda RX-7 FD.
- Made of real carbon fiber, unlike Ganadors.
- FRP bases, not steel like Ganadors, making it much lighter.
- Never been used, mint.
- SOLD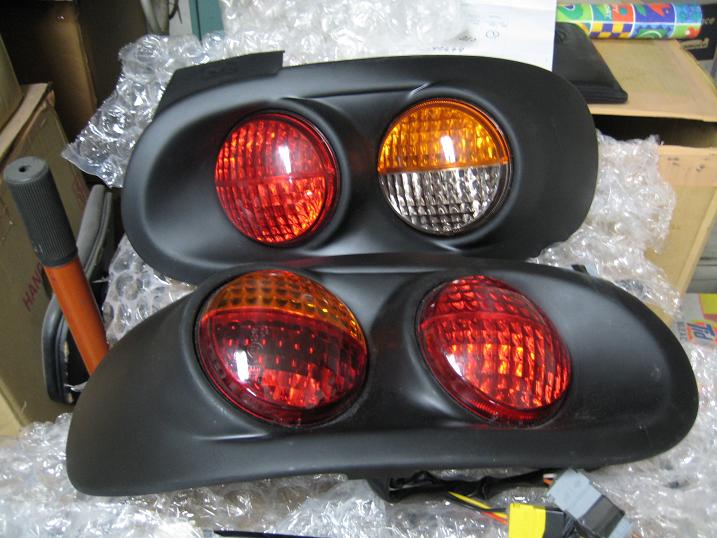 IL Motorsports Taillights
- Fits 99-05 Mazda Miata NB.
- Discontinued and rare.
- Costed over $500 new.
- Brand new.
- SOLD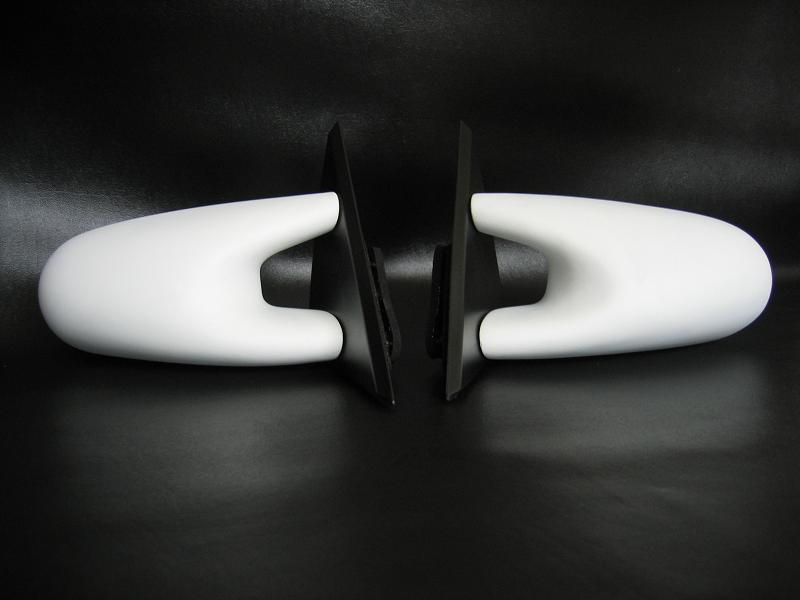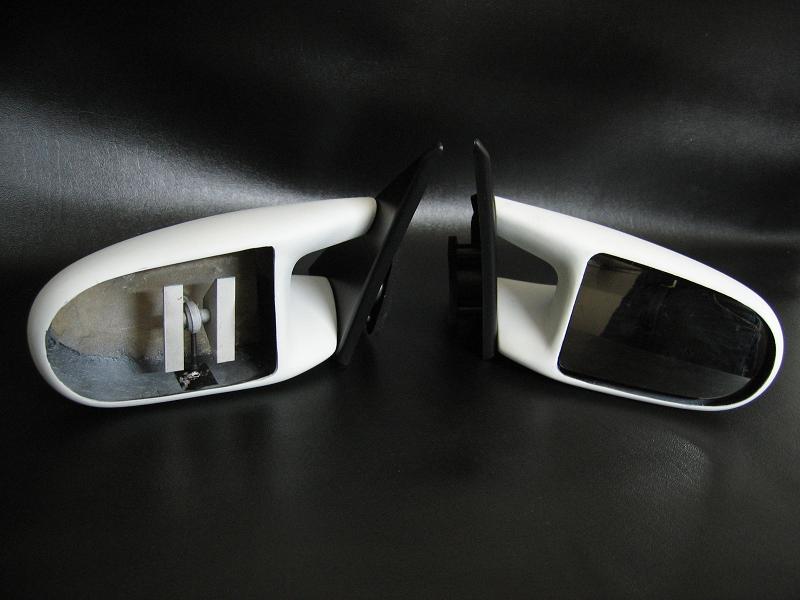 Bandoh EC Works Type-C Mirrors
- Old skool lightweight N1 race mirrors.
- One of the most popular race mirrors from the 70s, 80s, and early 90s.
- Fitted to new base plates for a 88-91 Civic Hatchback, but you can replace the base plates for your car.
- Primered white. Recommend to have new LHD specific glass cut.
- Used condition. Has some scratches and chips. Will need paint.
- SOLD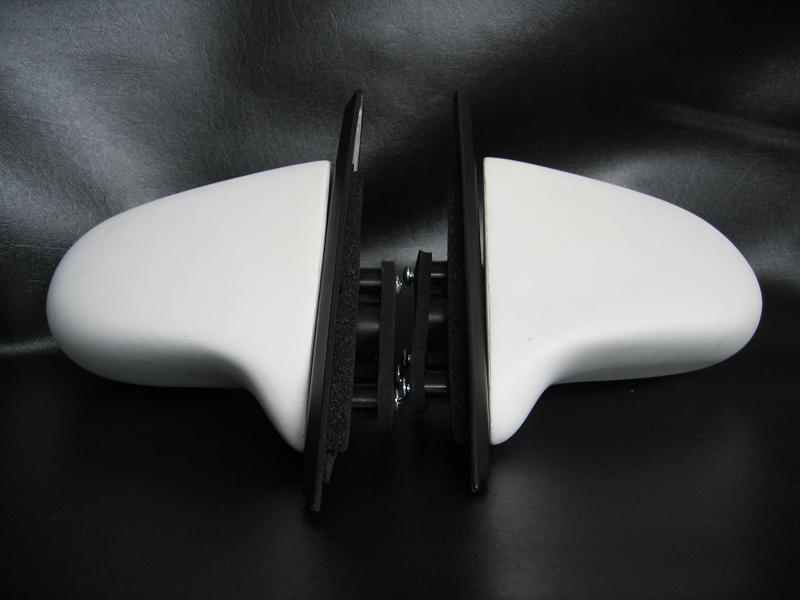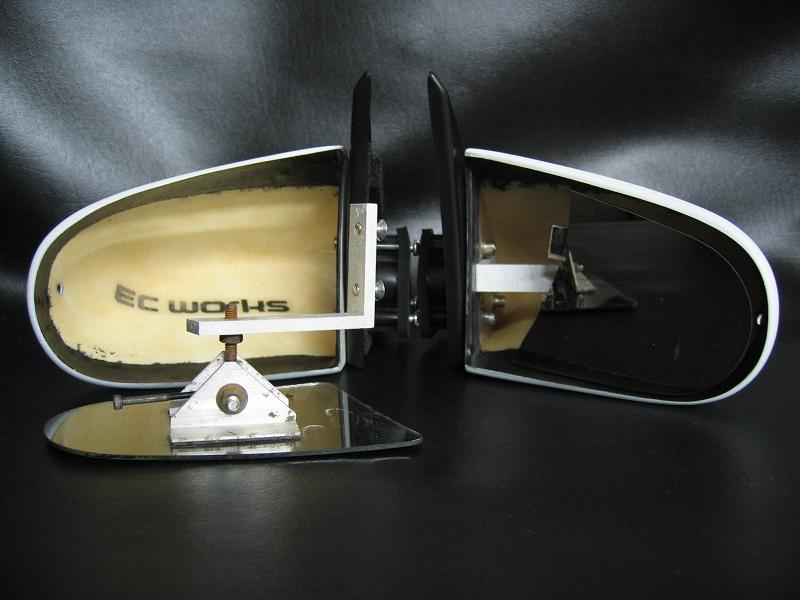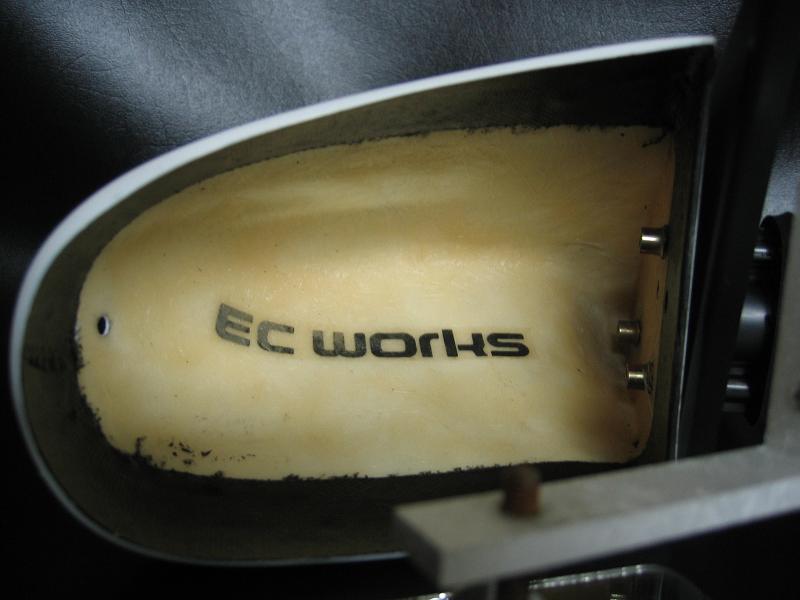 Bandoh EC Works Type-A Mirrors (identical to Mugen mirrors)
- Extremely rare.
- Identical to the ones offered in the Mugen race catalolgs.
- Smaller than the Vision/Spoon knockoff.
- Fitted to new base plates for a 88-91 Civic Hatchback, but you can replace the base plates for your car.
- Primered white. Recommend to have new LHD specific glass cut.
- Used condition. Has some scratches and chips. Will need paint.
- SOLD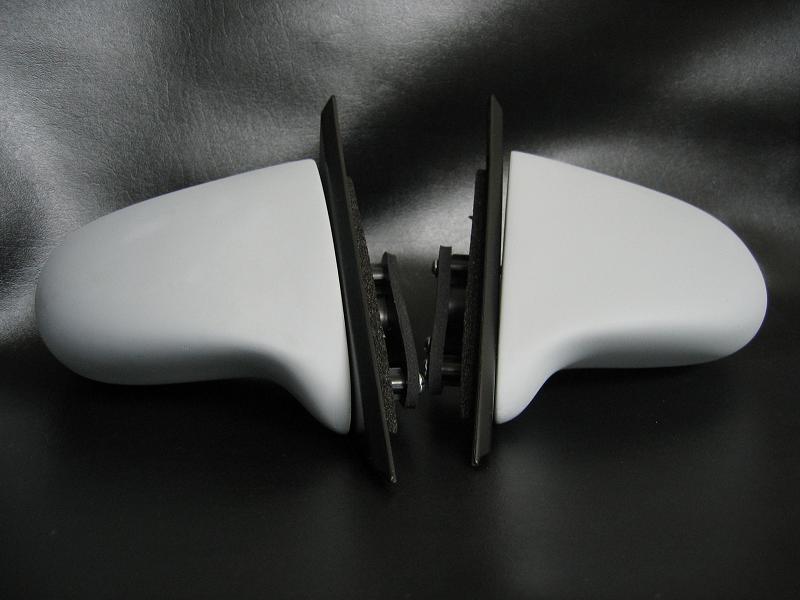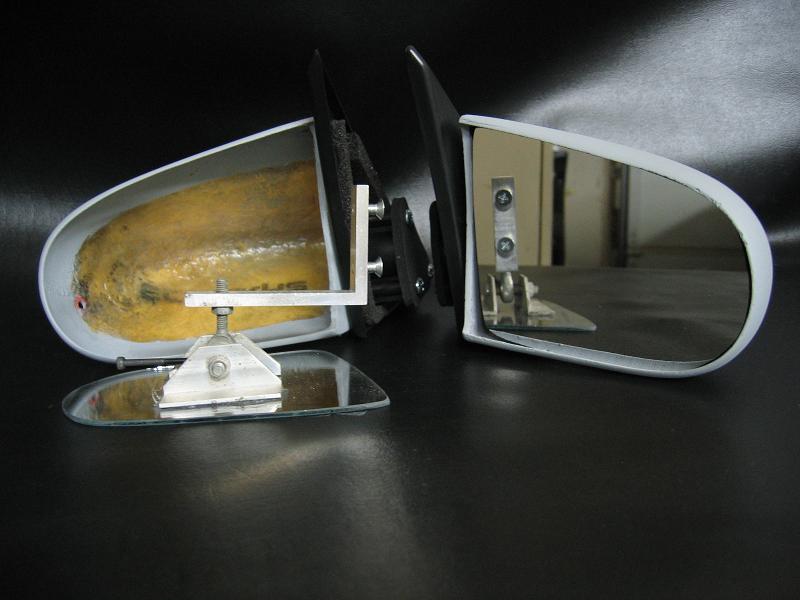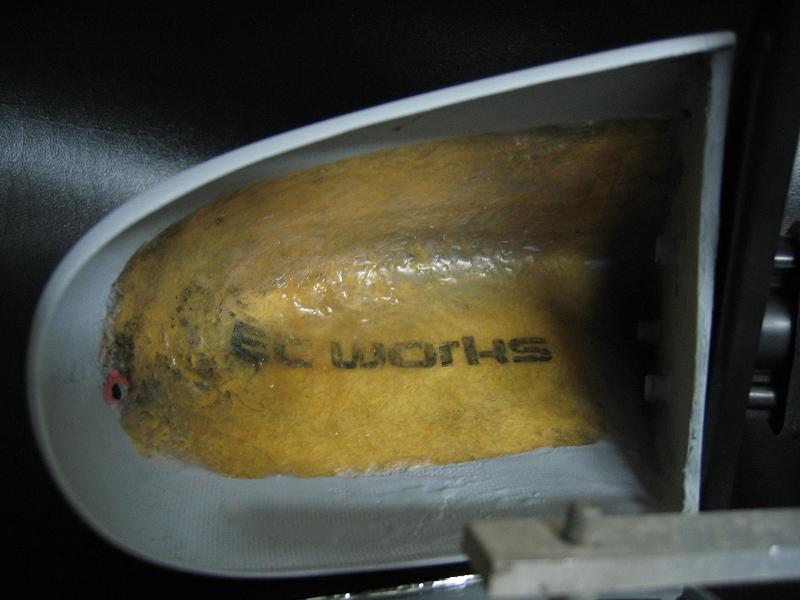 Bandoh EC Works Type-A Mirrors (identical to Mugen mirrors)
- Extremely rare.
- Identical to the ones offered in the Mugen race catalolgs.
- Smaller than the Vision/Spoon knockoff.
- Fitted to new base plates for a 88-91 Civic Hatchback, but you can replace the base plates for your car.
- Primered grey. Recommend to have new LHD specific glass cut.
- Used condition. Has some scratches and chips. Will need paint.
- SOLD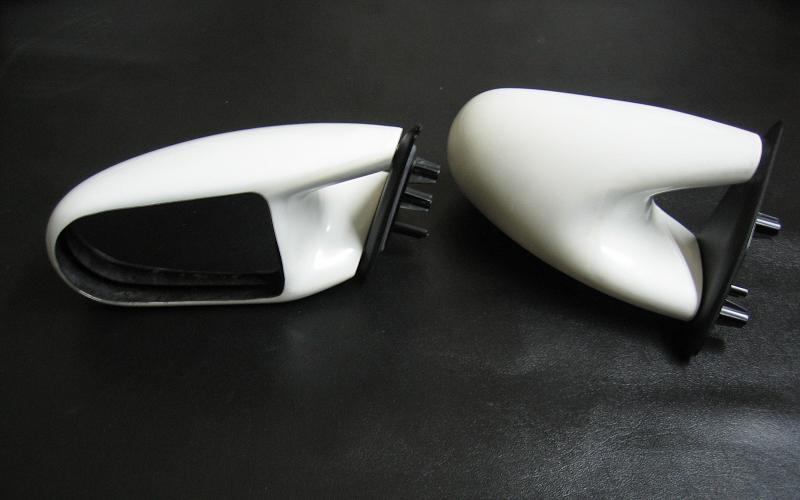 Bandoh EC Works Type-C Mirrors
- Fits Toyota AE86 Levin/Trueno (84-87 Corolla).
- Old skool lightweight N1 race mirrors.
- One of the most popular race mirrors from the 70s, 80s, and early 90s.
- Also sold under the brand Bandoh Racing, Sealazone, Bee*R, C Miller, and many others.
- Brand new condition.
- SOLD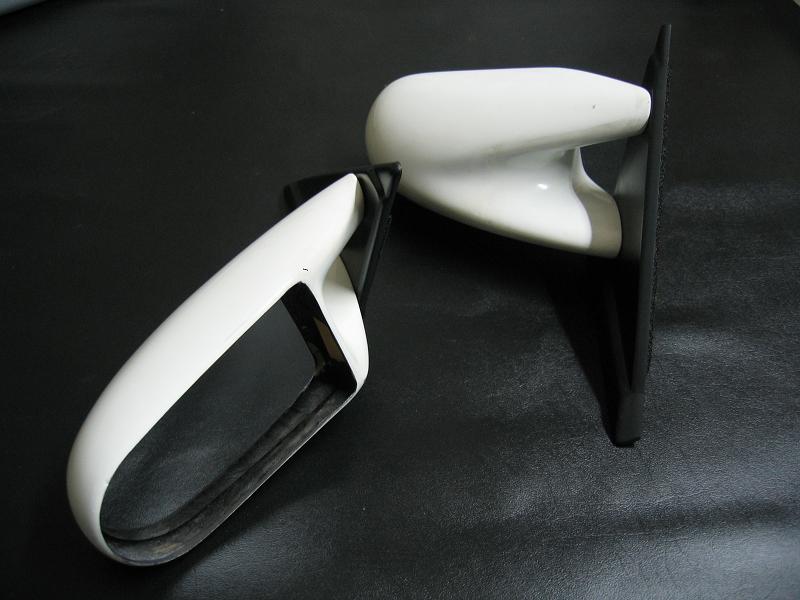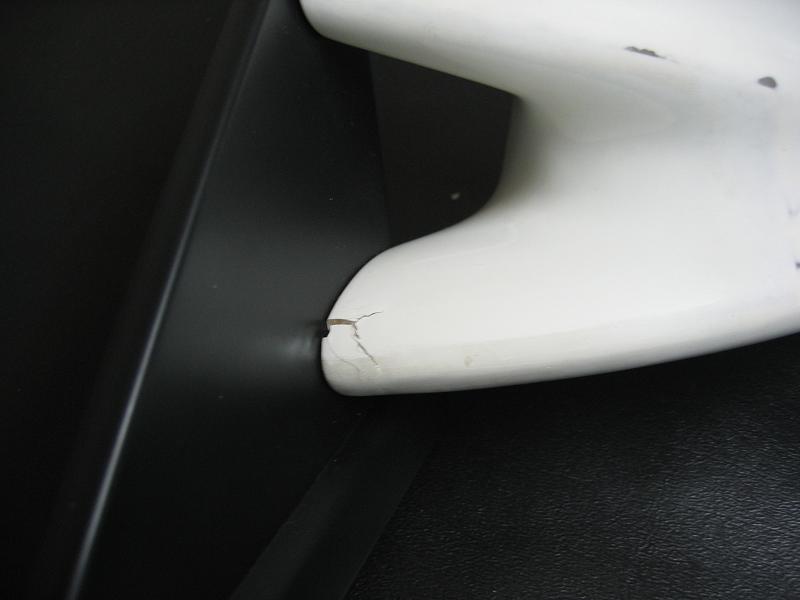 Bandoh EC Works Type-94C Mirrors
- Fits Nissan Silvia S13 (89-94 240SX).
- Old skool lightweight N1 race mirrors.
- One of the most popular race mirrors from the 70s, 80s, and early 90s.
- Also sold under the brand Bandoh Racing, Sealazone, Bee*R, C Miller, and many others.
- Brand new condition, but has small minor crack.
- SOLD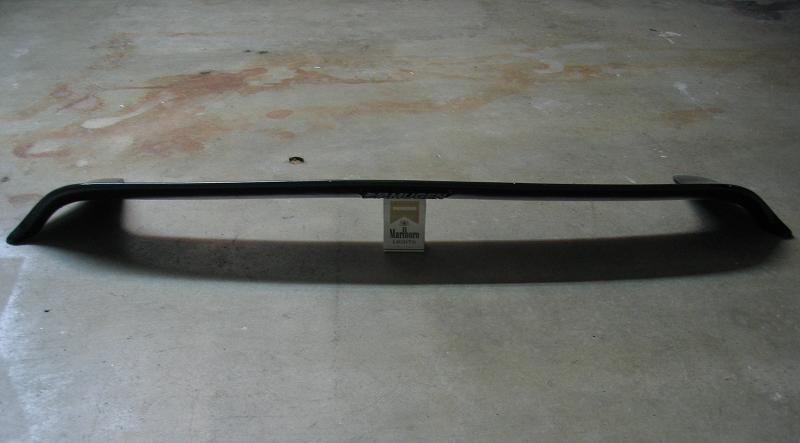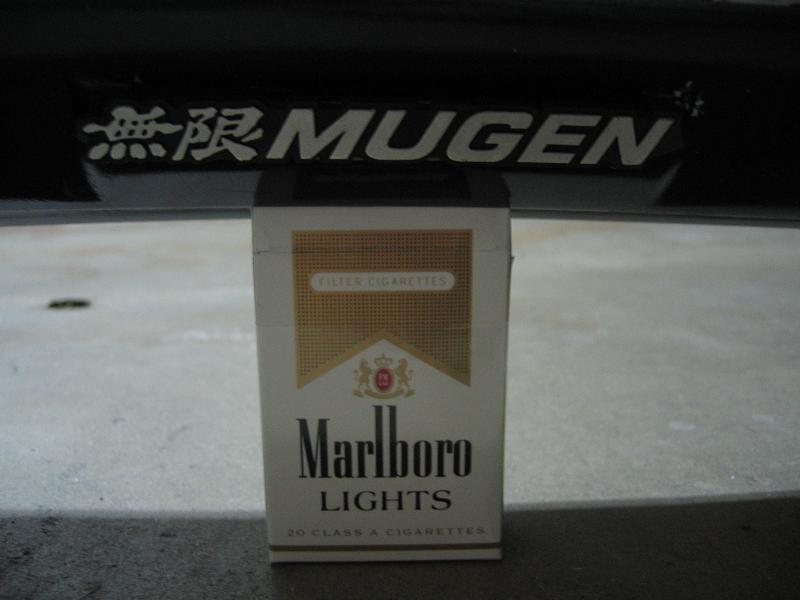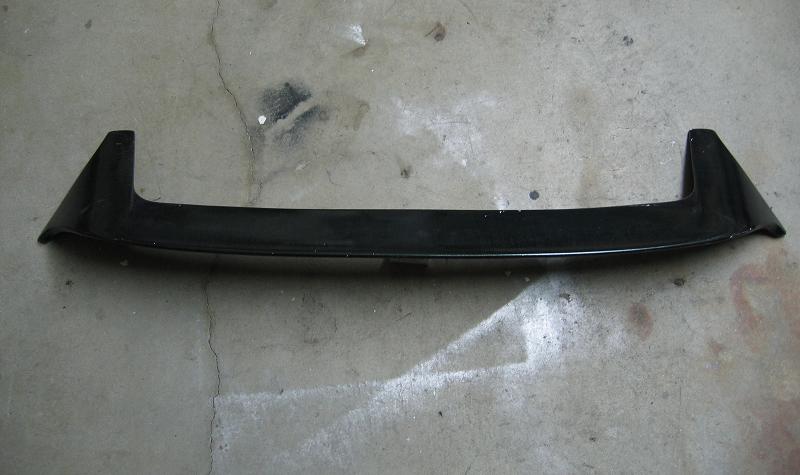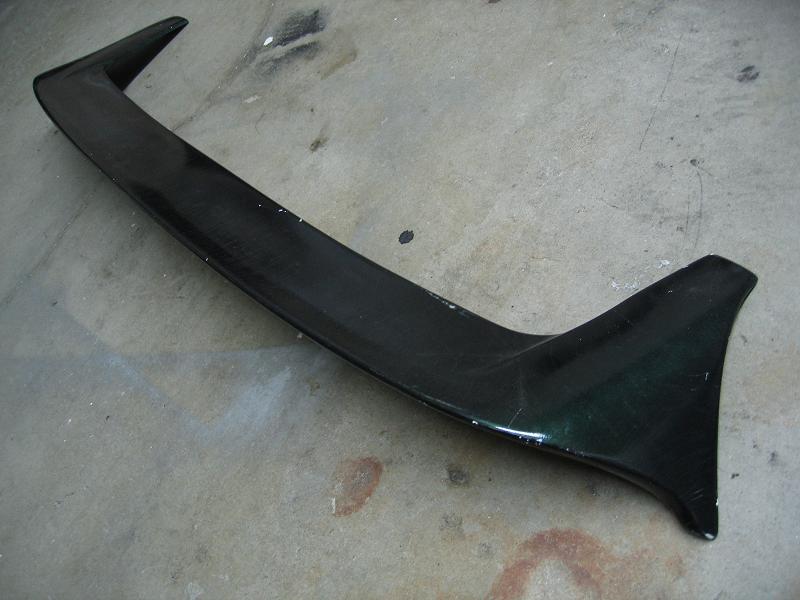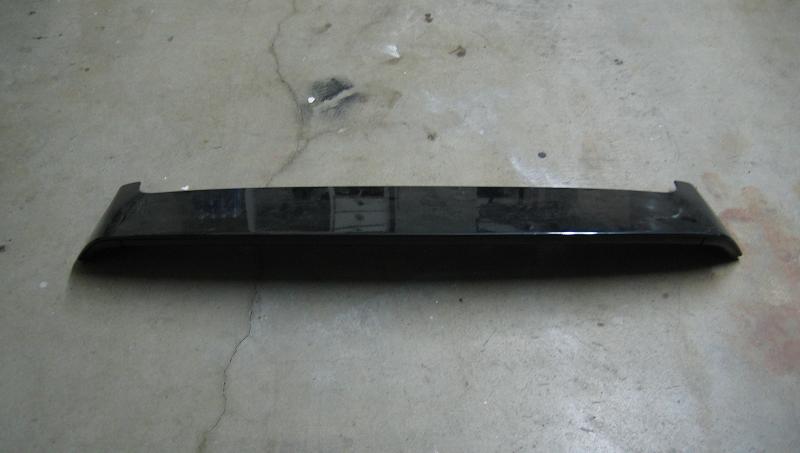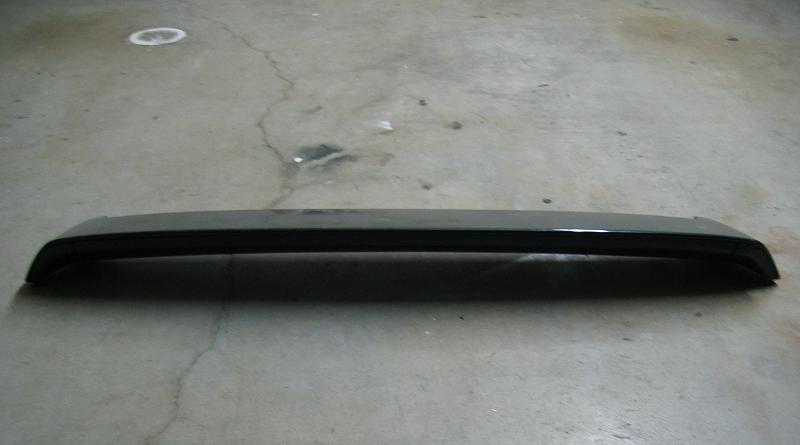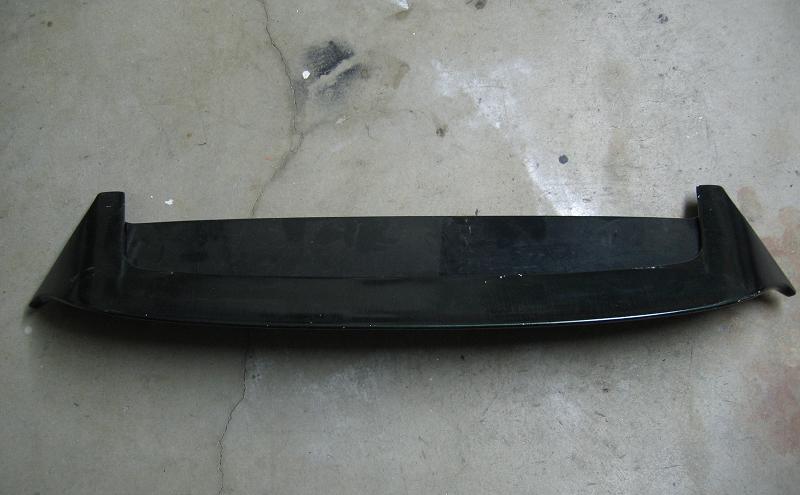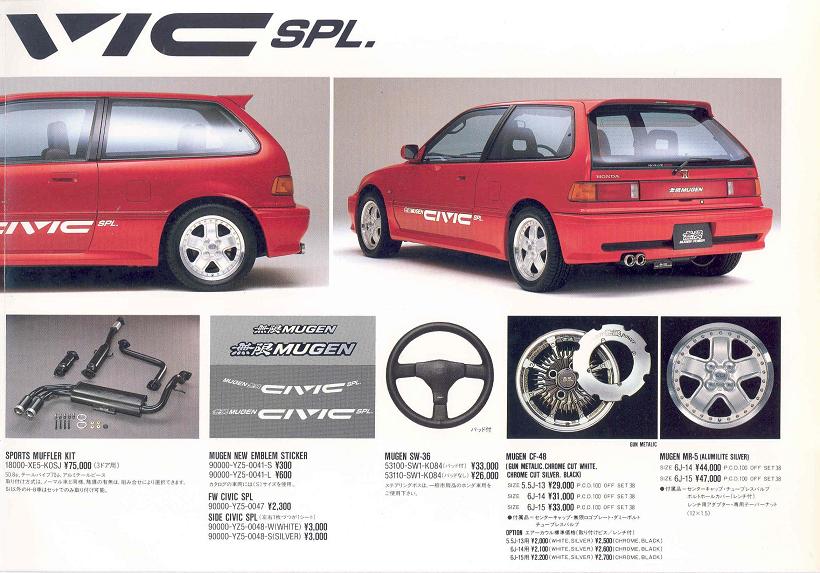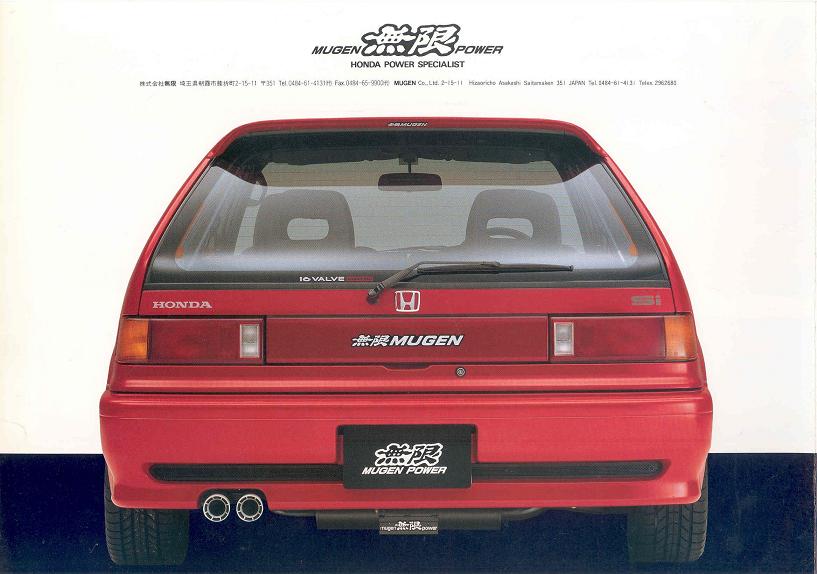 Mugen Power EF3 Wing
- Super rare old skool JDM part.
- Fits over of 88-91 Civic Hatchback USDM wing, extending it and giving it a upward tilt.
- Comes with rare non-brake light EF3 OEM wing.
- Made of soft plastic, not cheap fiberglass.
- Used condition.
- SOLD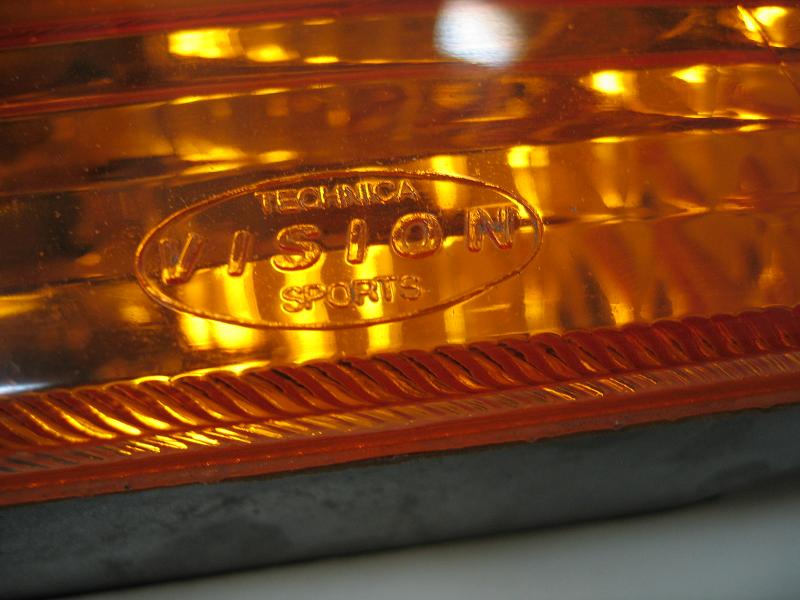 Vision Technica Sports Amber Bumper Lights
- For 90-91 JDM EF Civic Hatchback bumpers.
- Used but in great shape. Comes with original box.
- SOLD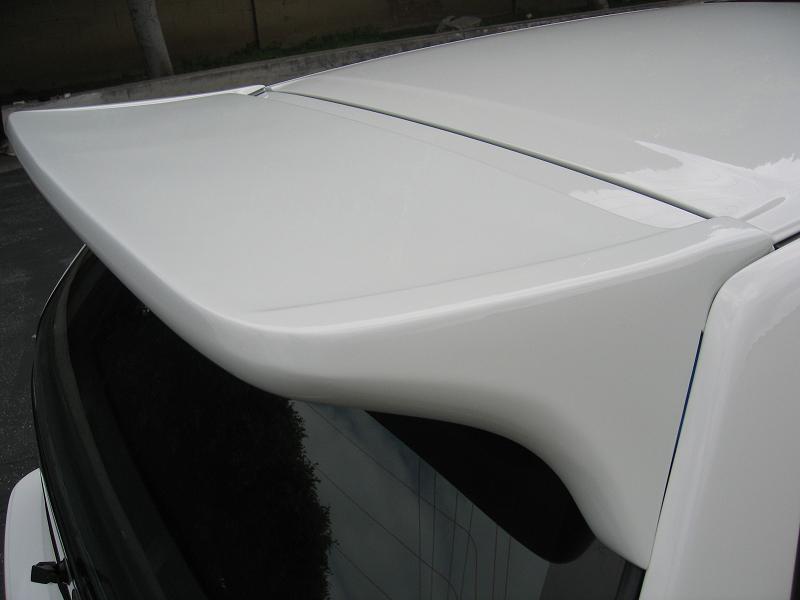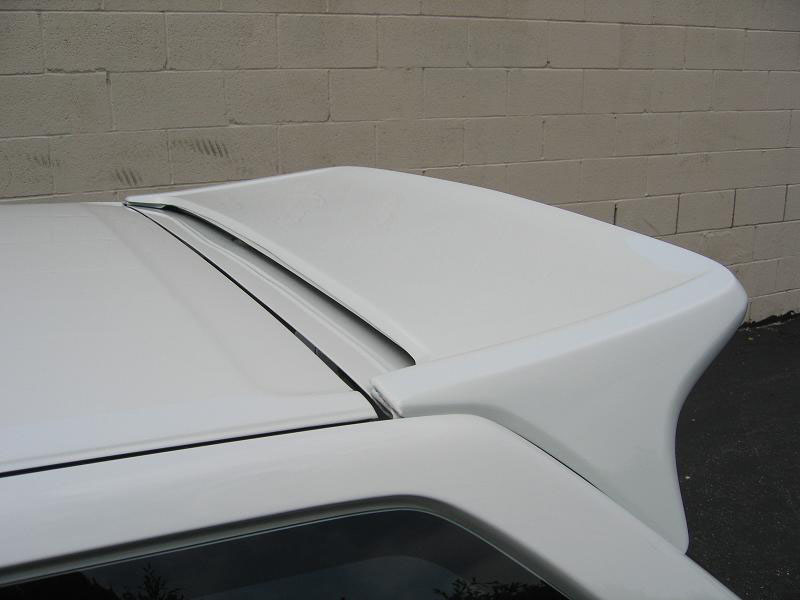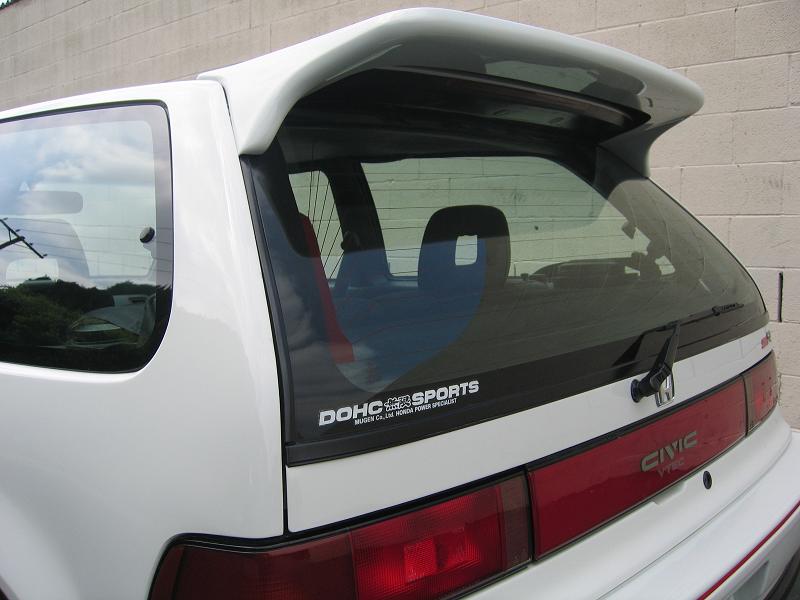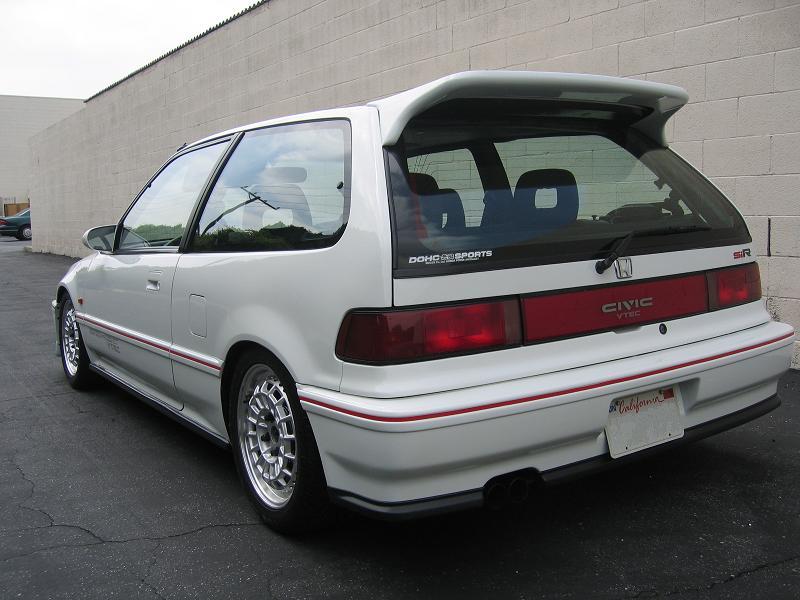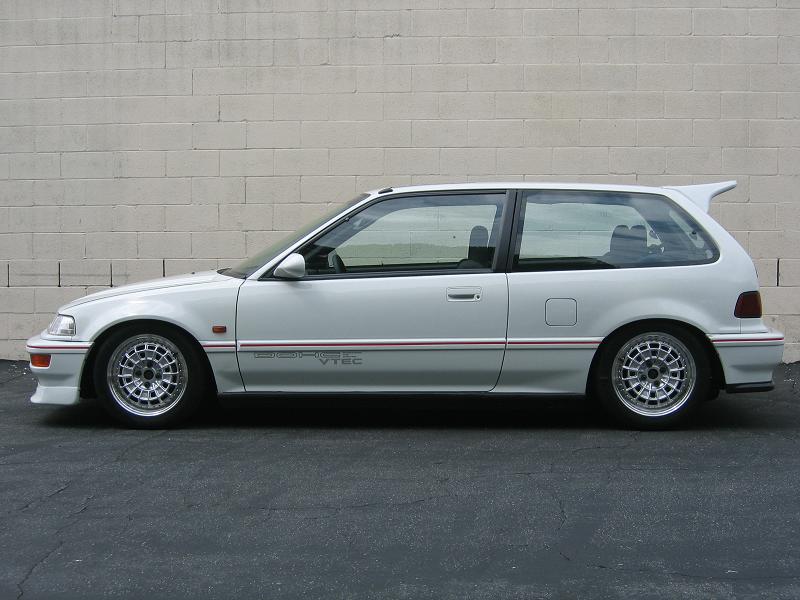 Live Sports EF9 Wing
- Super rare old skool JDM part.
- May or may not require a OEM 90-91 JDM wing.
- Newly painted OEM Frost white.
- SOLD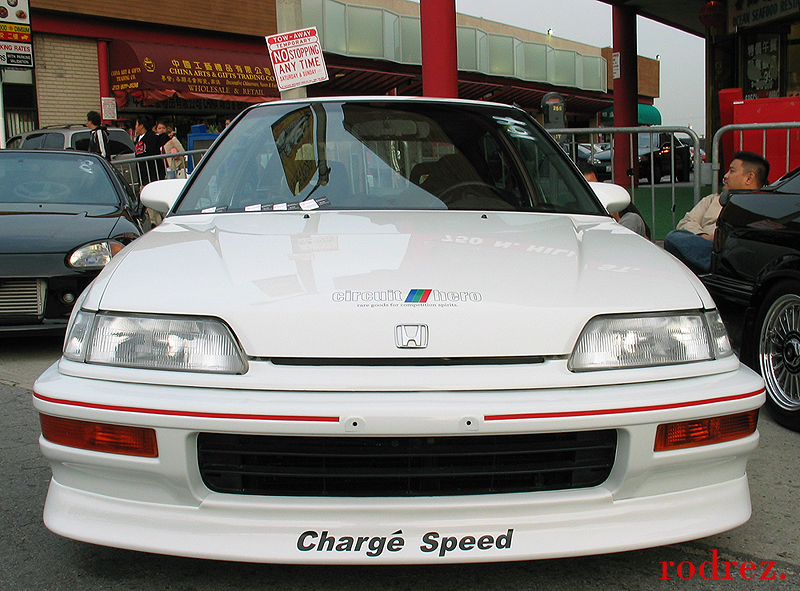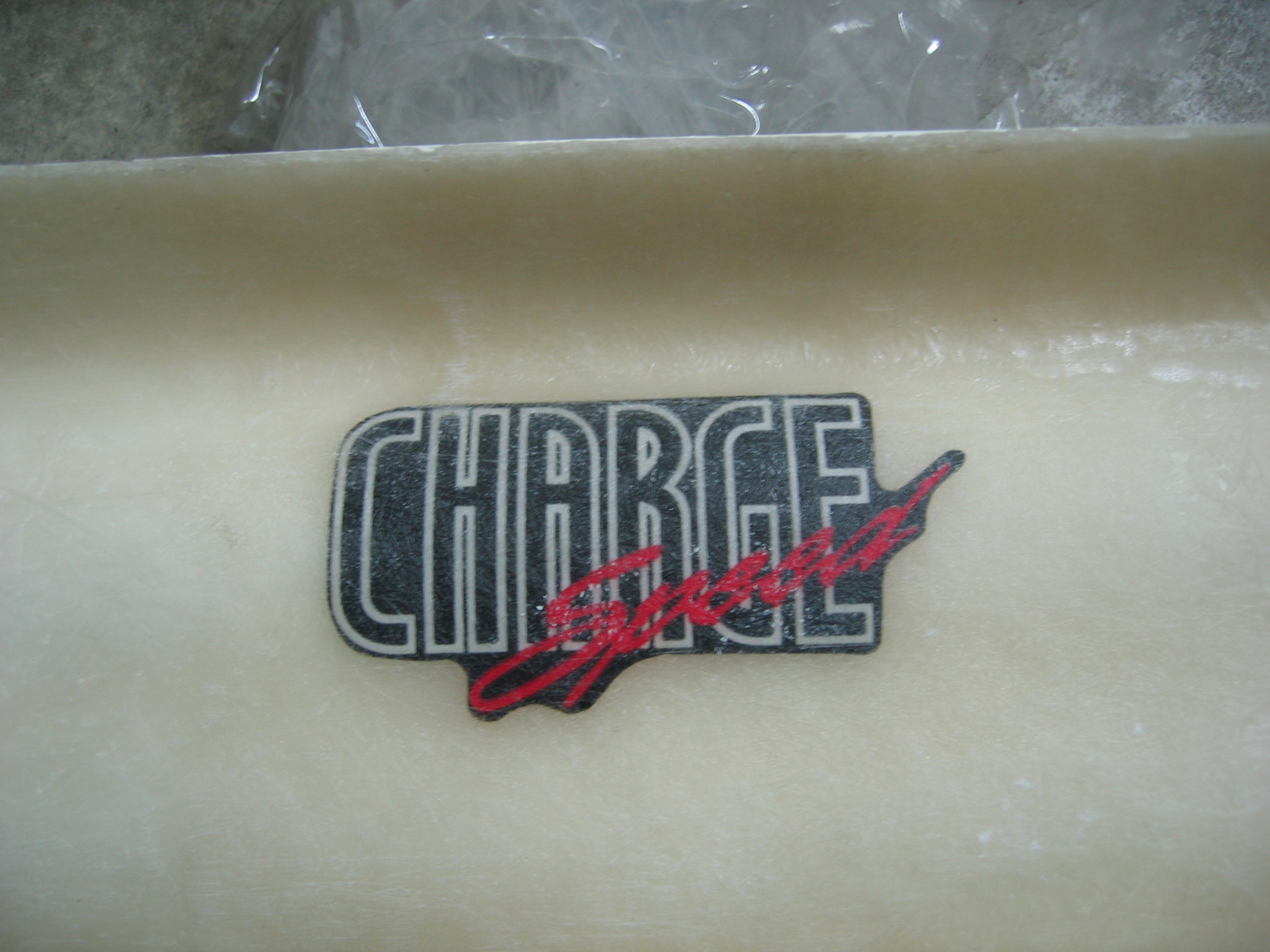 Original Chargespeed front lip
- For 90-91 JDM EF Civic Hatchback bumpers.
- Painted OEM Frost White.
- Used condition.
- SOLD


90-91 JDM Honda EF Civic Hatchback Front and Rear Lip
- Brand new in the OEM Honda bag.
- Fits 90-91 JDM Civic Hatchback bumpers. Will not fit USDM bumpers.
- SOLD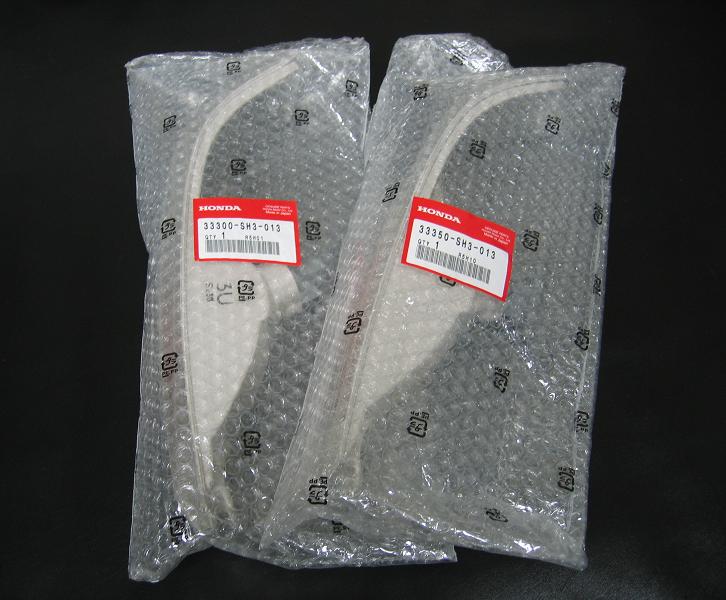 90-91 JDM Honda EF Civic Hatchback Bumper Lights
- Fits 90-91 JDM EF Civic Hatchback front bumper.
- Brand new condition.
- SOLD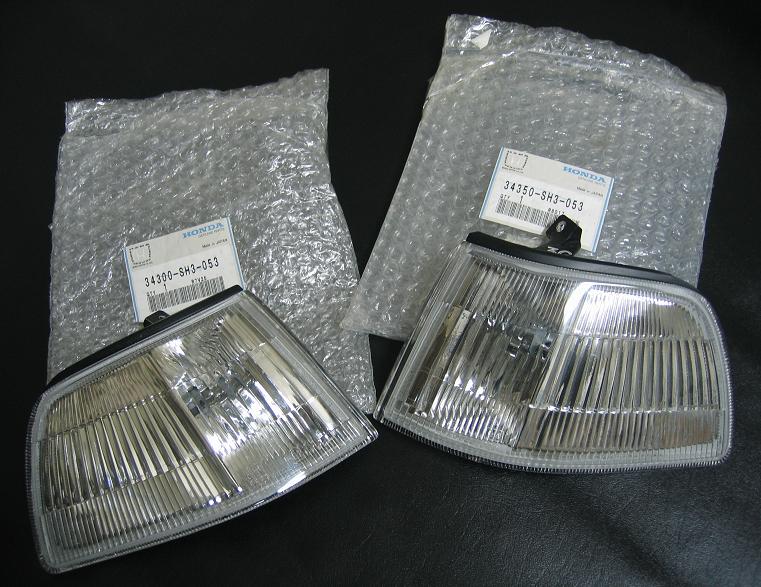 90-91 JDM Honda EF Civic Hatchback Corner Lights
- OEM JDM Stanley clear corner lights.
- Fits 90-91 Civic Hatchbacks.
- Hardly used. Comes in original packaging.
- SOLD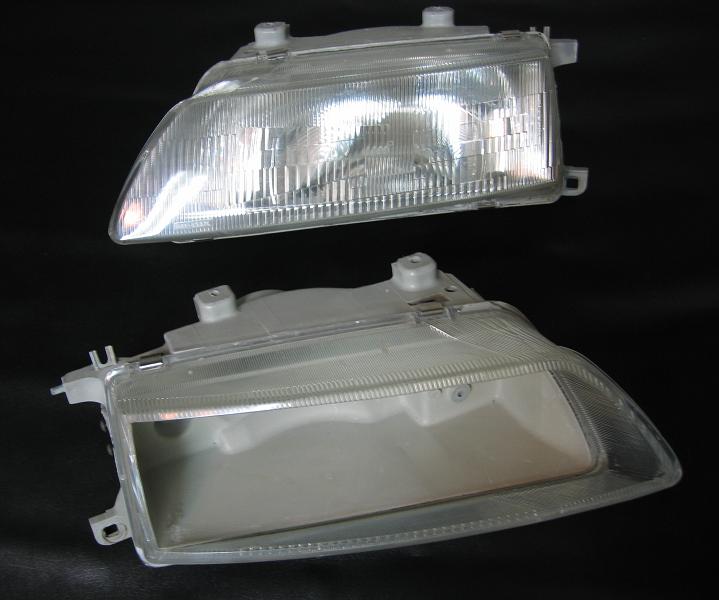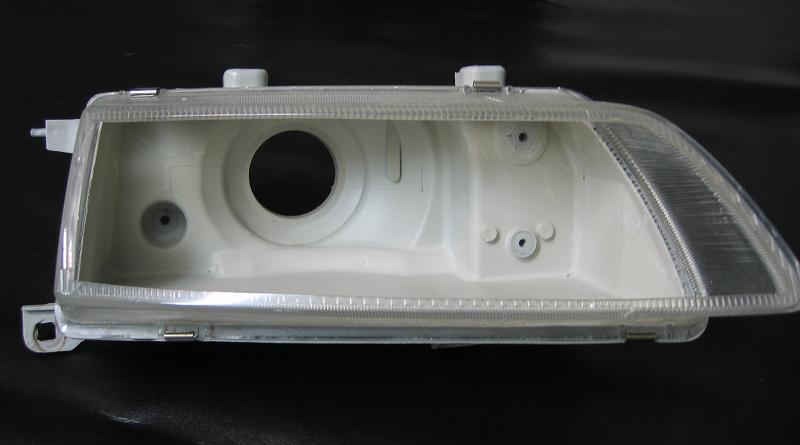 90-91 JDM Honda EF Headlights
- Fits 90-91 JDM EF front end.
- Right side headlight modified for intake.
- Used condition.
- SOLD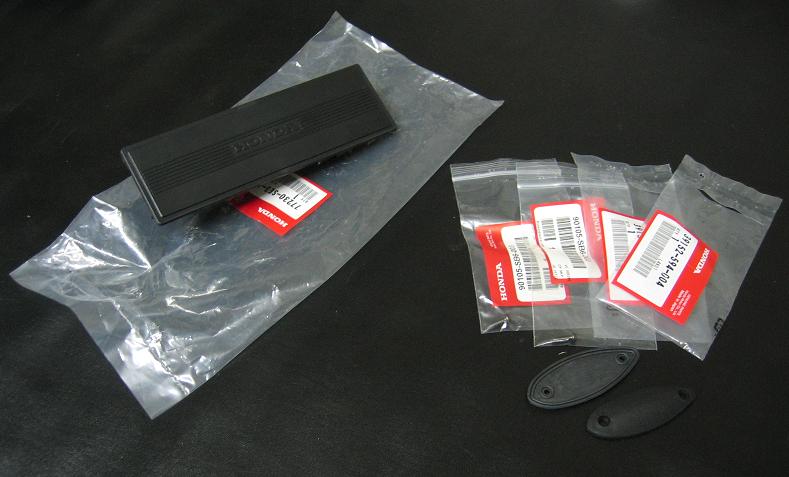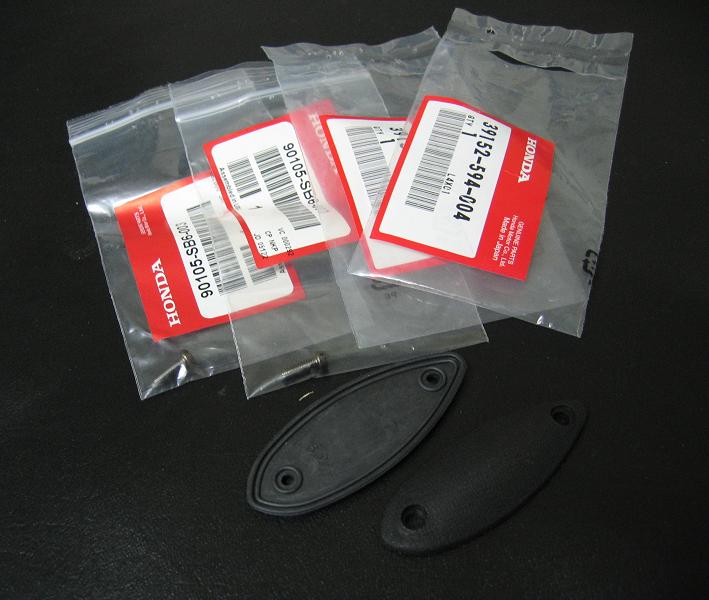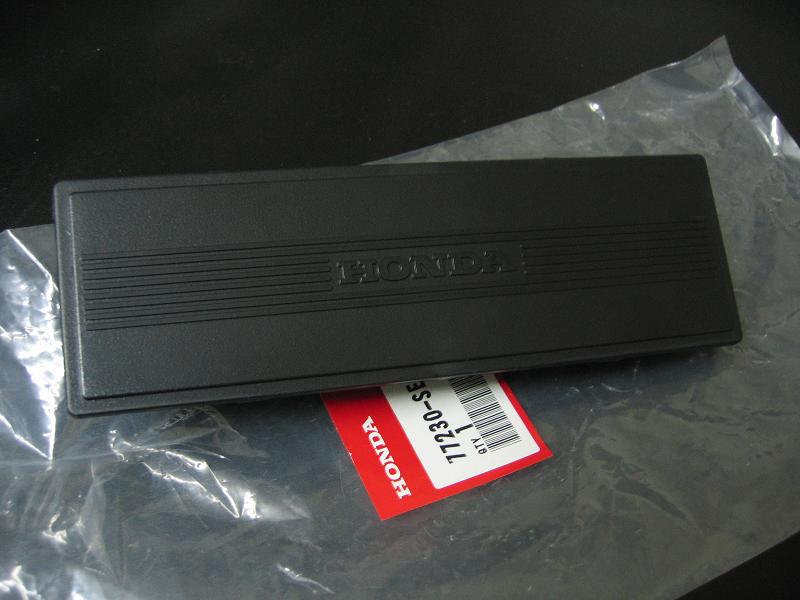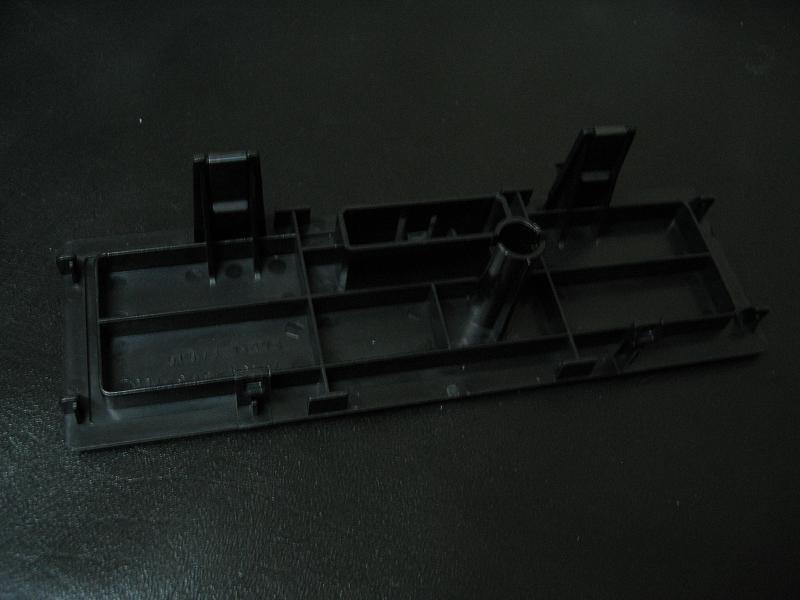 88-91 Honda EF Radio Removal Kit
- Kit contains EF specific radio DIN panel, antenna hole cover, gasket, and screws.
- Fits 88-91 EF CRX/ Civic Hatchback.
- Brand new condition.
- SOLD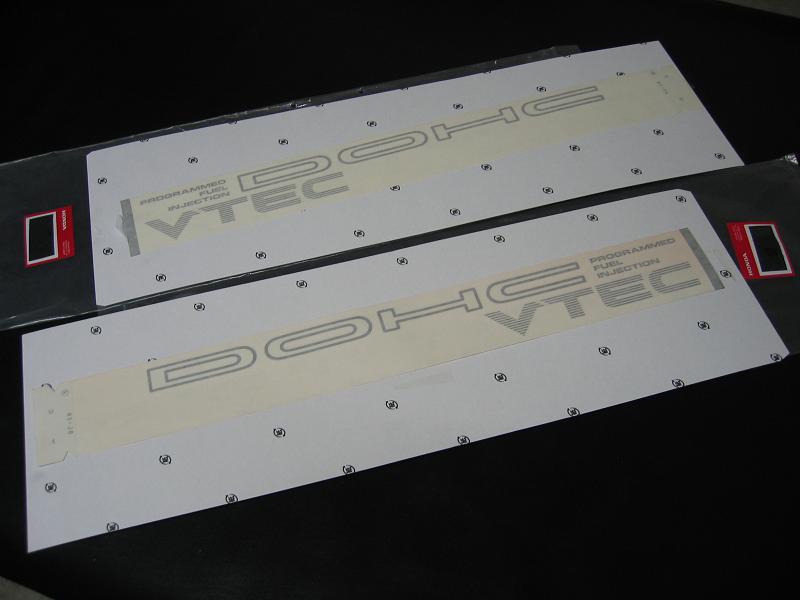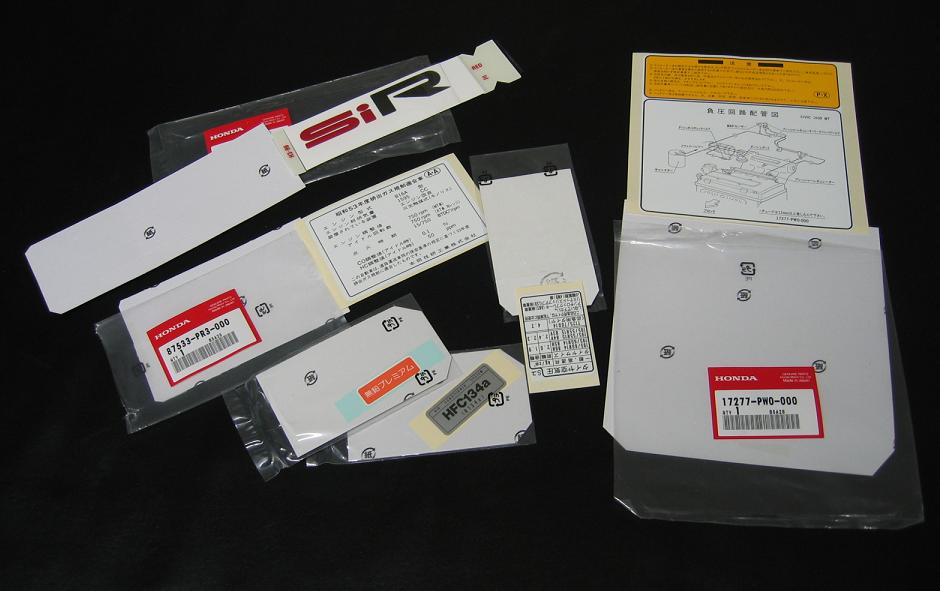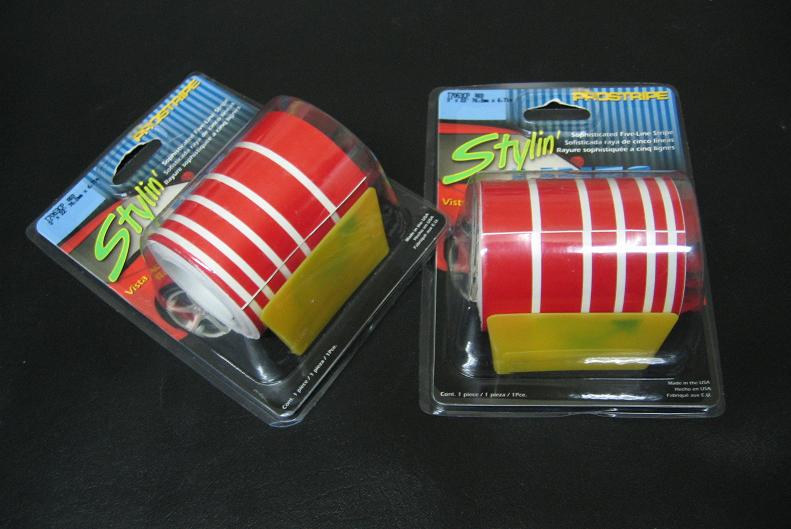 JDM Civic EF9 SiR Decal Kit
- Real OEM JDM stickers. Door stickers and rear hatch sticker, has OEM template for proper EF9 fitment.
- Made for 90-91 EF9 Civic Hatchbacks.
- Includes DOHC VTEC door stickers, SiR rear emblem, engine bay stickers, and inner gas cap sticker.
- Also includes universal pin stripe kit. Perfect size for EF hatchback moldings, to finish off the EF9 look.
- All brand new.
- SOLD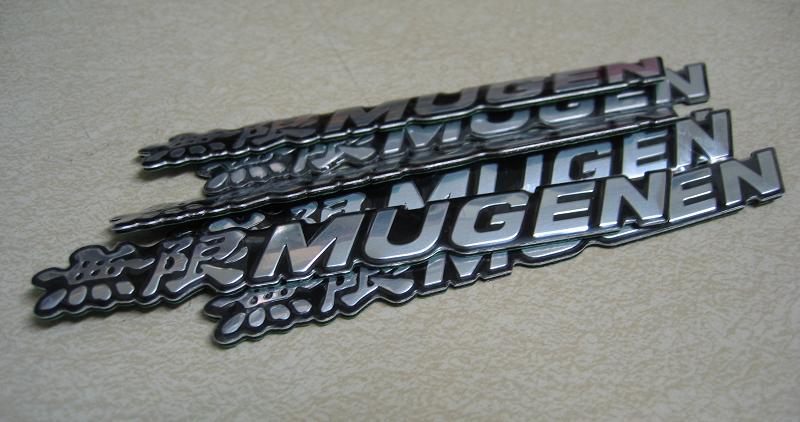 Replica Mugen Emblems for Aero Parts
- Replica emblems that are the same size as the originals.
- Made for wings and kits (such as DC2 1st gen wing, EF CRX kits, DA kits,...).
- Brand new.
- SOLD OUT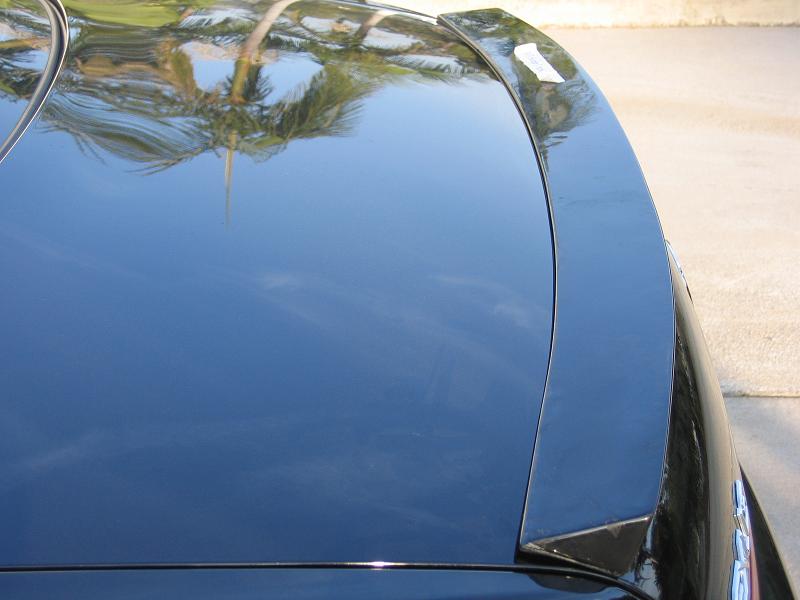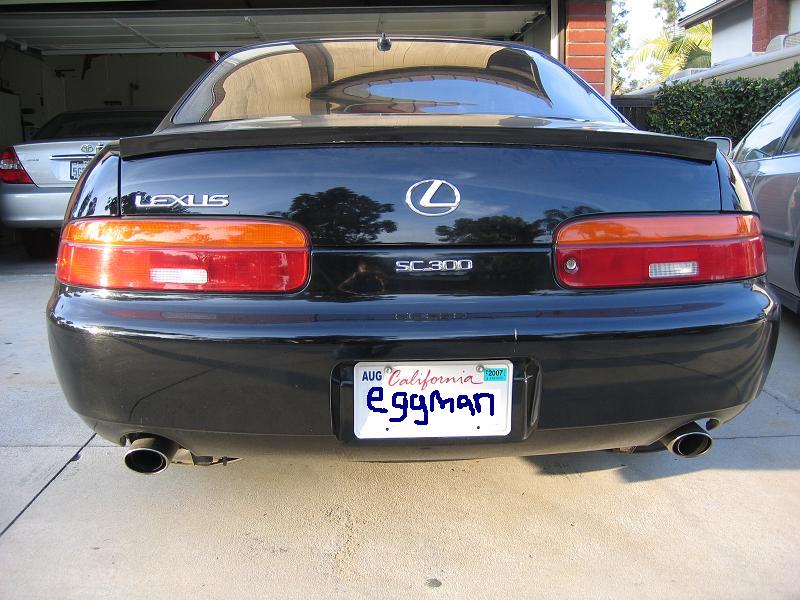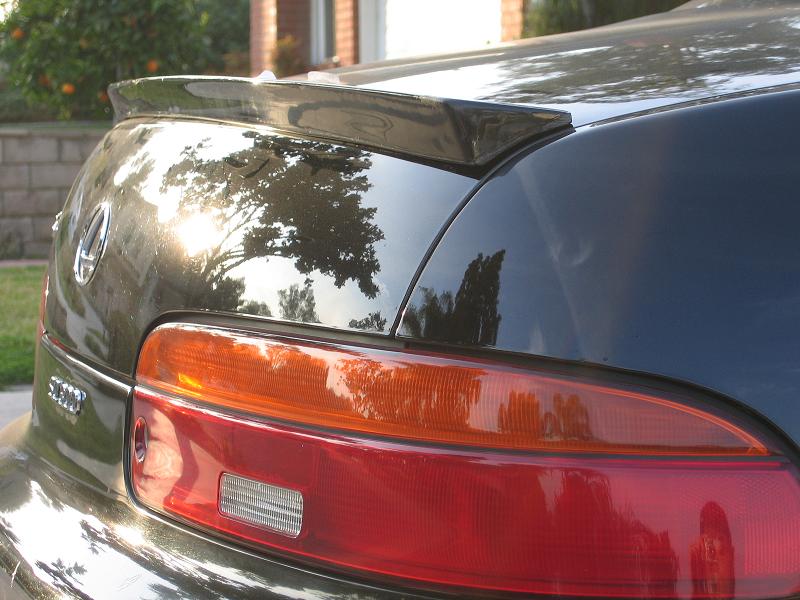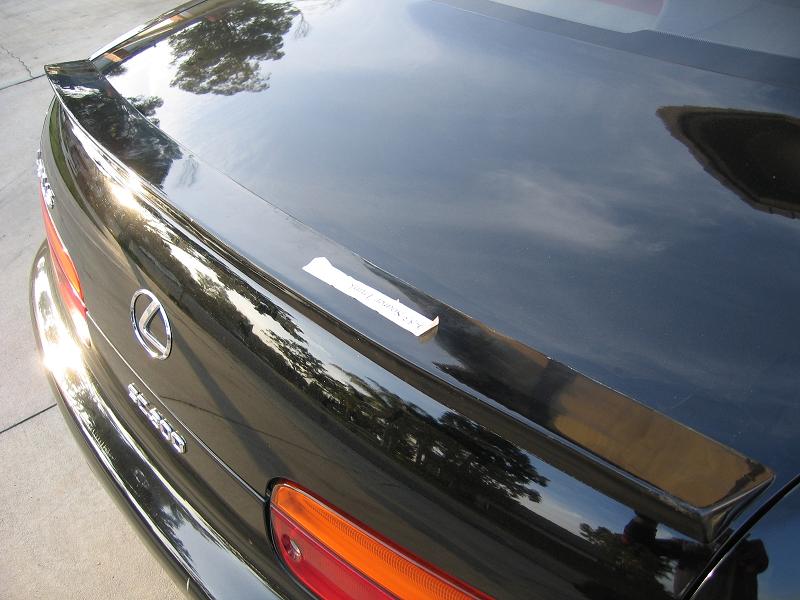 Origin Trunk Wing for 92-00 Lexus SC (JZZ30 Soarer)
- Brand new condition. Never used.
- Placed on car for pictures only.
- Never painted, wing is still black gelcoat on fiberglass.
- SOLD